For the second year running, final year students from the BA Fashion Design course showed on schedule at London Fashion Week.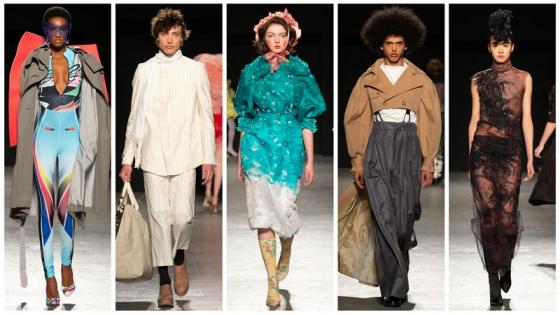 On Friday 15 February, fifteen collections, selected by an industry panel including Lulu Kennedy, Charles Jeffrey, and Gordon Richardson, were shown to an invited audience of the world's top fashion journalists, buyers and international recruiters.
Fashion journalist Godfrey Deeny hailed the show as being "brilliant" and that it was "a remarkable joint catwalk statement, which unveiled a gutsy and courageous new generation of talent."
This unique opportunity has been made possible by Professor Andrew Groves whose radical rethink of how fashion education is delivered has meant that the University of Westminster course is now fully aligned with the international fashion calendar.
Professor Groves said: "All the students that showed this week at LFW have already worked for some of the world's best designers and are now ready to launch their own design careers. I am thrilled that we are once again showing their collections at London Fashion Week in front of an invited audience of over 500 of the most important people in the international fashion industry. This is a unique opportunity for any fashion graduate to be able to have so early in their career.
"I am also pleased to announce that in May we will be showing all our graduates A/W19 collections together with their S/S20 precollections at the Espace Commines showroom in Paris. This is another first for Westminster and will allow those that wish to build their own brands to develop early relationships with international buyers and stockists before their graduation in June."
This season also saw the course partner with event production company 'My Beautiful City' so that the University's Ambika P3 venue could be used as a show venue for several other LFW designers including Ashley Williams, House of Holland, Ashish, Shrimps and Richard Quinn.
Professor Groves commented on this partnership: "I'm excited that as a University, we have been able to help support London Fashion Week and other designers through this partnership and I hope that we can build on this next season to allow even more designers to benefit from our fantastic show venue in Central London."
Other graduates from the BA Fashion Design course that showed at this week at London Fashion Week included Roberta Einer, Ashely Williams, Katie Ann McGuigan, Markus Lupfer and Manon Planche.
Find out more about the Fashion Design BA Honours course offered at the University of Westminster.