Katharine Heron, head of the department of architecture informed those gathered that in addition to previous years' success at the RIBA awards, this academic year at Westminster saw 23 distinctions in the Graduate Diploma in Architecture (RIBA Part II), and 15 first degrees with Honours in the Architecture BA Honours (RIBA Part I) and this was testament to the calibre and competitiveness of the students  studying at Westminster.
Congratulating the winners of the inaugural VOLA Prize for Interior Architecture, Chris Brandon, founder of Pringle Brandon architectural practice, remarked that the decision-making process was on occasion tough because of the high standard of work on the Interior Architecture BA Honours, a course only introduced two years ago.
Presenting the award in honour of his late brother Shoaib, Bilal Rawat said that it was while studying here that Shoaib realised his potential, and that his message to all the recipients would be to dare to live their dreams. The Shoaib Mahmad Rawat Award was set up with generous support from the Rawat family, Grimshaw Architects, the practice where Shoaib spent most his professional life, and friends and fellow alumni. The appeal to keep the award going into the future is still open.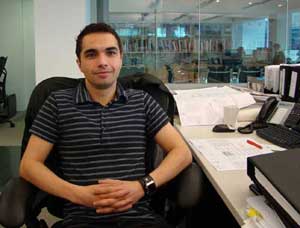 Open 2011, the department of architecture's end of year exhibition celebrating the achievements of students and staff during the past academic year, opened on 16 June to upwards of 3,000 visitors on the evening. This exciting work will remain on display until 8 July 2011 and is open daily between 9am and 9pm.
We would like to thank Pringle Brandon for their support of the exhibition and the accompanying catalogue.
An undergraduate open day for the School of Architecture and the Built Environment will be held on 6 July.  More information is available here or by phoning the Course Enquiries Office on 020 7915 5511.
The Awards
The Shoaib Mahmad Rawat Student Award for the Best Design Project in the Graduate Diploma in Architecture
First prize: Benjamin Kirk
Second prize: Tim Bennett
Third prize: Andrew Cumine
CLAWSA Prizes for the Best Portfolio in First Year Architecture BA/BSc Honours, and in the Diploma
Architecture BA Honours, Year One
Winner: Fergus Secombe
Runner-up commendation: Jun Lee
Graduate Diploma in Architecture, Year One
Winner: James Kirk
Runner-up commendation: Katie Jackson
VOLA Prize for Interior Architecture
First prize, Year Two: Charles Fish, Interior Architecture BA Honours
Second prize, Year Two: Harpreet Lota, Interior Architecture BA Honours
Joint first prize, Year One: Andrea Bedoya and Zuzana Hozakova, Interior Architecture BA Honours
DETAIL Magazine Architecture Student Awards for Best Design Detail
Architecture BA Honours, Year One : Lorenzo Corsini and Nayeem Hassan
Architecture BA Honours, Year  Two: Elle Lan Phan and Samuel Michaelsson
Architecture BA Honours, Year Three : Kinga Maria Rusin and Darren Grist
Graduate Diploma in Architecture, Year One : Gwenael Sara Jerrett and Yashin Kemal
Graduate Diploma in Architecture, Year Two : Rachael Barker and James Kirk
Banister Fletcher Dissertation Prize
Catherine Archbold (Tutor: Richard Difford)
Lucy Brooke (Tutor: Julian Williams)
Julianne Cassidy (Tutor: Julian Williams)
Teresa Rodriguez (Tutor: Richard Difford)