Students Tobias Power, Lorna Jackson and Jon Leung were accompanied by their tutors Arthur Mamou-Mani and Toby Burgess, as well as a team of 60 past and present students to help deliver the three projects in the Nevada desert. This year the three projects were funded by Burning Man and the Kickstarter campaign.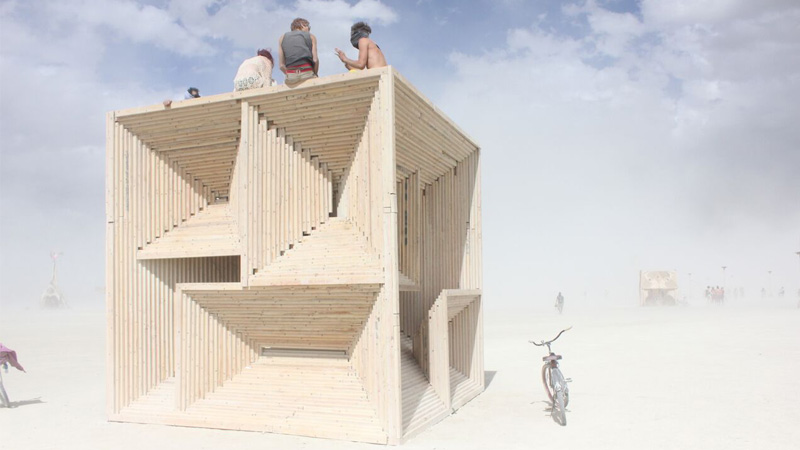 Jon Leung's Bismuth Bivouac
Speaking about Design Studio DS10's involvement with the festival, course leaders Arthur Mamou-Mani and Toby Burgess said: "The studio's philosophy is to involve students as much as possible in the design, fabrication and construction process. We chose Burning Man for its ten guiding principles which include 'Radical Self-Reliance', 'Radical Self-Expression', 'Leave no trace' and 'communal effort'. This meant playful and climbable structures, fully built by us as a team in a way that wouldn't harm the local environment."
Over the course of four years, DS10 has submitted over 80 proposals to the Global Arts Grant of Burning Man and received a total of six grants including the ones for Fractal Cult and Shipwreck built in 2013 and Hayam in 2014. The studio receives constant support from the engineers at Ramboll RCD and Format Engineering led by Stephen Melville.
Describing the process of the building of the structures, Mamou-Mani and Burgess added: "First we pre-assembled and tested the structure in a local Fab Lab called the Generator in Reno. Then we brought the pieces for the three projects in a giant flat-bed truck. We then started assembly with three teams of 20 people for each project, led by the three students and tutors. It was very hard work for everyone, as building under high temperature required a strict process of morning and night shifts, and shade structures on site.
"The Infinity Tree was the hardest project to build as it relied on having a laptop with the 3D model showing where each piece went, which is very challenging in a sandstorm. The Bismuth Bivouac went very smoothly as it was made of standard off the shelf timber pieces of different length. After completion the structures were enjoyed and climbed upon by many of the 80,000 festival attendees. Then the projects were burnt and demolished by a giant remote-controlled robotic arm on wheels that threw flames at the structure in a beautiful show protected by a perimeter composed of all our team. It was a beautiful moment as we all saw the accomplishment and felt proud it was all completed. The burn was like a final liberation from the very hard work and a celebration of the common effort that led to these amazingly innovative structures. We all learned a lot from this extreme academic journey."
You can follow the progress and news concerning the Westminster DS10 studio on the WeWantToLearn.net blog.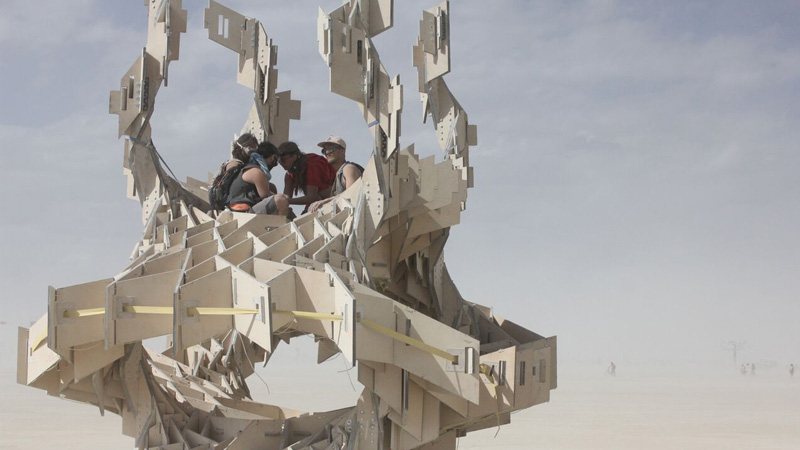 Tobias Power's The Infinity Tree