Choosing Ambika P3 as the first venue of its UK tour, the Action Space film project provided students from the Faculty of Architecture and the Built Environment with an opportunity to practise their skills in a real-life architecture project while installing the inflatable and controlling the air flow that holds the structure upright.
The inflatable cinema explores the history and contemporary relevance of 'Action Space', a radical collective who were ground-breaking pioneers of public art, laying the foundations for arts in the community during the 1970s.
Founding members of Action Space and volunteers spent seven days building the new air structure at Ambika P3 which will both feature in, and was used as a venue for, the resulting artists' film about play, education and arts.
The inflatable will be touring the UK during the filmmaking and installation process. The film will follow the birth and possible death of an inflatable air-house, and the journey it takes through action and ideas along the way. With the widening out and observation of the breathing sculpture as it grows to inhabit the spaces it travels to, air will become a narrative device as ideas and inflatables, like our organic bodies, inflate and deflate, grow and die.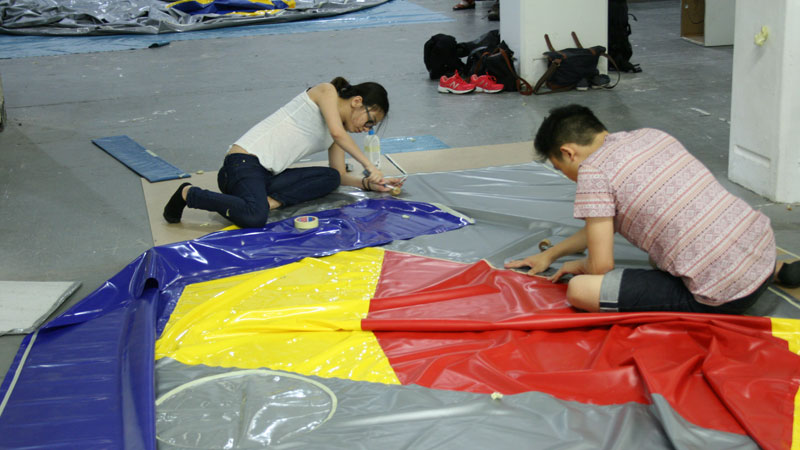 Gavin Yau, Architecture BA Honours, and Carole Tan, Interior Architecture BA Honours, help build the inflatable cinema
Gavin Yau, Architecture BA Honours student and member of the Westminster Architecture Society, said: "This project gave us the opportunity to create something at a large scale. It taught us a lot of new skills that we will be able to use in our graduation projects. I did lots of gluing and cutting, and I learnt a great amount of precision skills making sure that everything fits together. It's an unusual project because it is very simple processes creating a very complex structure. It's something that if you have the opportunity to do, you just have to take it because you might not be able to experience something like this again."
Huw Wahl, Director of the Action Space film project, said: "Westminster students were a great help as they approached the project with an immense enthusiasm. Ambika P3 was the perfect venue because of its size, and also because the University was very accommodating, which makes a huge difference when using a space like this. They made the journey very smooth."
The University of Westminster is one of the UK's leading centres for the study of Architecture and the Built Environment inspiring more than 2,000 students at its teaching base at Marylebone, in central London. The Faculty aims to explore the core subject areas that address the future shape of our cities and encourage the dynamic thinking that makes our courses the envy of others.