Westminster alumni Nick Tyrer, Jon-Scott Kohli and Luke Harrison are currently leading the design process of Everton FC's new stadium along with a team of people from Pattern Architects, Buro Happold and landscape architects Planit-IE.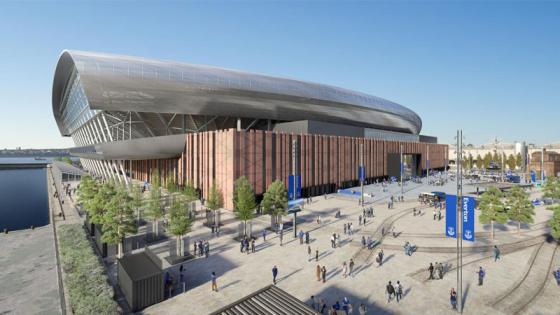 Tyrer, Kohli and Harrison are core members of the design team for this project. Tyrer, who graduated from the Architecture Postgraduate Diploma Professional Practice (RIBA Part III) course, is the Design Lead. He is responsible for the design of the facade, roof and bowl of the stadium. 
As Design Lead, he manages the overall appearance of the stadium, ensuring that the various packages and building elements are designed with a holistic vision. Tyrer is also responsible for making sure that the stadium fits with the identity and fan experience that has been established with Everton FC.
Kohli and Harrison, who graduated from the same course, are the Project Architects. Speaking about his role, Kohli said: "As Project Architect, I am responsible for making sure the design team are working together and that the design itself is coordinated."
His role involves planning and organising teams as well as working closely with Everton FC, the contractor, the engineers, and landscape architects to make sure that all of the different activities involved come together to deliver the club's brief. 
The new stadium is one of the biggest construction projects in the North West of England and it assures massive benefits for the local community. It is predicted to contribute £1bn to boost the Liverpool economy as well as provide up to 15,000 new jobs. 
Pattern Architects, where Tyrer, Kohli, and Harrison are Associate Directors, have been working closely with Buro Happold and Planit-IE to improve the stadium in response to key stakeholders such as Liverpool City Council and Historic England. Developments to the stadium include a new civic waterfront terrace, a covered fan plaza and solar panels on the stadium roof. 
Speaking about the project, Tyrer said: "It is a source of great personal pride that we can finally share our work on Everton's new home at Bramley Moore Dock stadium, becoming the closest premier league stadium to my home in Chester. With family and friends in Liverpool, I have grown up on both sides of the Mersey and know how much potential there is in this area. 
"Pattern Design have been working hard on this project since 2018, alongside a fantastic group of architects, designers, and engineers. It is an honour to lead the Envelope design teams, and I am very appreciative of the opportunity to contribute to a project that means so much to the North West."
Learn about Architecture and Interiors courses offered at the University of Westminster.