The Chevening South Asia Journalism Programme Fellowship for 2019-2020, a programme involving the University of Westminster designed for promising journalists from South Asia, is now accepting applications until 9 October 2019.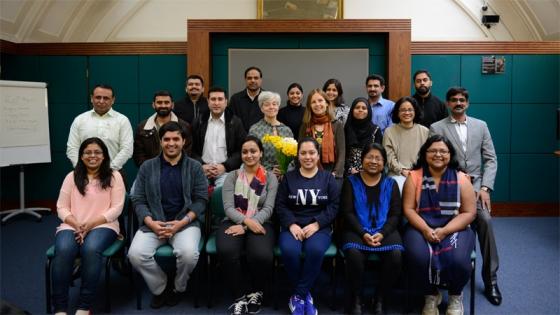 The fellowship is aimed at mid-career journalists from South Asian countries including Bangladesh, India, Pakistan, Sri Lanka, and the Maldives. It has been run by Professor Jean Seaton and Professor Rosie Thomas from the University and is in its seventh year. 
This year's programme is titled 'Good Governance in a Changing World: the Media, Politics and Society'. It consists of eight weeks of intensive lectures, visits, and discussions that introduce the applicants to key UK academics, media, and political figures in the field. 
Those chosen will explore the different ways in which the media play a part in holding democratic processes to account, including government, the civil service and security, as well as the broader political system in both the South Asia region and the UK. They will spend time meeting their peers in some of the UK's top media organisations, as well as running a symposium on a topic of their choice in the final week.
Chevening, founded in 1983, is the British government's international award scheme aimed at developing global leaders. Funded by the Foreign and Commonwealth Office and partner organisations, Chevening offers two types of awards – Chevening Scholarships and Chevening Fellowships – the recipients of which are personally selected by British Embassies and High Commissions around the world through a rigorous selection process.
The programme provides an informed and evidence-based context to key policy debates and mutual understanding of international positions, supply practical experience and encourage dialogue on key issues. 
The Acting British High Commissioner to Pakistan Richard Crowder said of the programme: "Media Is one of the most important pillars of democracy with the UK championing the work of journalists and media freedom worldwide. 
"I would particularly welcome applicants from diverse backgrounds to apply; our ambition is to have an equal split between women and men who are awarded Chevening scholarships from Pakistan." 
The fellowship programme will commence in March 2020.