Following a very successful first year, the Creative Enterprise Centre (CEC) has teamed up with RAK Studios to launch this year's ON-TRAK Fellowship.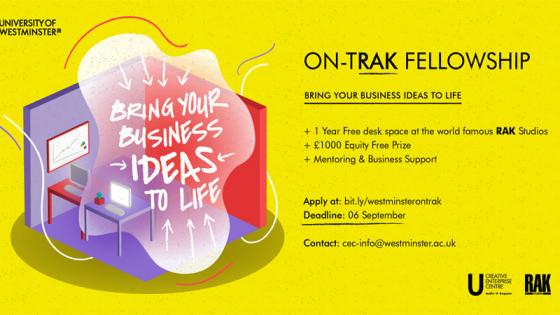 The ON-TRAK Fellowship is a structured 12-month residency programme designed to support and launch an aspiring University of Westminster graduate entrepreneur.
In collaboration with RAK Studios, the CEC will award a recent graduate with a viable business idea with one year's free working space at the world-renowned RAK Studios; along with structured mentoring, business advice and a £1,000 prize.
As part of the CEC Westminster Graduate Venture Programme, the ON-TRAK Fellowship also acts as a Launchpad for the University's next generation of entrepreneurs, and enables students and graduates to build, develop and facilitate their start-up and freelance businesses.
Manon Planche, a BA Fashion Design Graduate, was selected as the inaugural fellow in 2018. Earlier this year, the 25-year-old Fashion Designer of the eponymous brand hosted a showcase and showroom in the 2019 Autumn/Winter London Fashion Week, and has had a year of success since moving into the RAK Studios and joining the CEC Venture Accelerator Programme.
Known as one of London's most-iconic recording studios, RAK Studios provides commercial desk and office space for startup and SME business teams, such as AWAL, Tribe Management, APRA and Touch Tones Music.  
Located in North-West London, RAK Publishing & RAK Studios were founded by English record producer Mickie Most in 1969 and 1976 respectively. As one of the best-known recording studios in the UK, RAK has previously worked with artists such as Take That, Sam Smith, Alicia Keys and Radiohead, Robert Plant, Mumford & Sons and Royal Blood. Clients from film, TV and press include BBC, ITV, Channel 4, Sky Arts, RTE, Spotify, O2, Beats and Sofar Sounds. 
RAK Publishing represents over a hundred writers including Ivor Novello winner Errol Brown and gold badge recipients Steve Harley and Suzi Quatro.
Andy Leese, General Manager of RAK Group of Companies, said: "RAK is a truly creative environment. A perfect place for a venture such as this to grow and evolve. We are all excited at the prospect of finding the right candidates who have talent and innovation to join us here and be part of something special."
The ON-TRAK Fellowship is open to all University of Westminster graduates who have completed their studies within the past two years. We welcome all business types and sizes across all industries.
To apply, simply complete an online application form and submit a two-minute Video Pitch and a Lean Canvas. The application deadline is on 6 September 2019.
Click here to apply. For further guidance on the fellowship and your application, please contact [email protected]