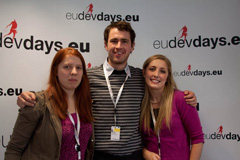 This latest award caps an exciting year for Lucy, who was also among the first winners to the EU Journalism competition.
Below she writes about her experience and how she has come to value her journalism training at the University of Westminster.
My EU Assignment by Lucy Laycock
I arrived in a very snowy Brussels on the night of 2nd December after making it through the Eurostar chaos. Along with 33 other journalism and international development students from across the EU, I had been selected to receive training and to cover the European Development Days, after writing an article on sexual violence in the developing world. We were put up in style at the Radisson Blu hotel, overlooking in the European Parliament, and given the first night to prepare ourselves for the hectic four days ahead.
The first two days were dedicated to training and briefing. From day one we were expected to be multi-platform, and were told we would have to use audio, video and written forms to cover the conferences. A specialised platform was created for the purpose and it was hoped that by pushing all of us outside our comfort zones the project would better mimic the increasingly multimedia world of journalism.
I had already completed the Multi-Media Journalism Skills module as part of my course, which gave me a basic grounding in all mediums of journalism. We were also expected to blog and tweet our way through the days, and I had already overcome the initial mental block experienced by many as we were expected to do both as part of the module. This gave me an advantage as I was able to throw myself into the days without hesitation.
I received radio training from Cecile Veyrie, a French journalist, who helped me formulate a subject area to cover during the development days. This was a useful supplement to the teaching I had received during Radio News Reporting module.
We also attended press conferences with journalists living and working in Brussels, many political correspondents from major news stations across Europe. I had already experienced a simulated press conference as part of Multi-Media Skills module which helped me overcome my nerves and ask useful questions.
As the days began we were given full press access and expected to behave like real journalists, spending our time between conferences and our designated area in the press room. It was really exciting following the action and tweets of other journalists to locate particular speakers and I frequently found myself encountering influential figures; I was sat three seats away from Jacques Chirac at one conference! Luckily we had practised interview skills in the classroom and at events in London so I was not completed overwhelmed!
I worked hard on my story as the days progressed; I was researching fake medicine and the implications for international aid. However I uploaded articles, audio and video on all kinds of different topics which interested me. It was not all hard work; we were guests at the prestigious Lorenzo Natali prize ceremony, which rewards journalists who write about human rights, and I even managed to secure a place at the prizewinner's dinner afterwards. It was very inspiring and a true honour to be able to meet such internationally respected journalists.
I returned to the UK exhausted but exhilarated, having developed skills learnt in the classroom and held my own against journalists much older and more experienced than me. I am currently waiting to hear the results of the final stage of the competition after submitting my finished podcast, 'Kill or Cure: The truth about fake drugs'.
The trip was a fantastic experience for any wannabe journalist and the multimedia nature of the University of Westminster MA Broadcast Journalism course undoubtedly allowed me to participate to the full.