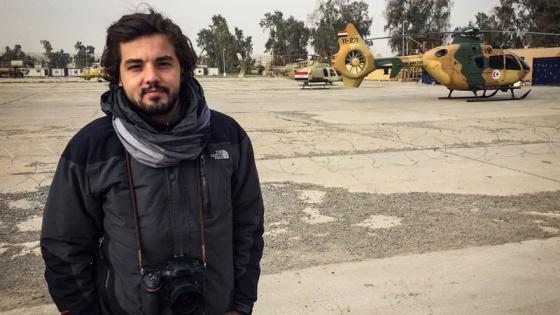 The British Council Study UK Alumni Awards celebrate the outstanding achievements of international alumni who have studied in the UK, showcasing the impact and value of UK Higher Education. The awards honour their university experience and the impact they have made on their wider communities. Now in its fifth year, the Awards have received over 1,200 applications across 140 Higher Education institutions in the UK, representing 120 different countries.
Alessandro, who is a freelance documentary photographer and works for Getty Images, has been shortlisted in the Professional Achievement Award category, which recognises alumni who have brought about significant change within their chosen career paths. He is currently based in Italy and has worked extensively around the Middle East with a focus on areas of crisis and conflict. His notable work has been published in major international publications including The Guardian, The Sunday Times, Corriere della Sera and Der Spiegel. He has also exhibited his work with the Royal Photographic Society and Royal Geographic Society, receiving prestigious awards at the Festival of Ethical Photography and the International Photography Awards.
The Alumni Awards provide an unparalleled opportunity for international alumni to have their success recognised on a national, regional and global scale, helping to raise their profile through exclusive press and PR opportunities. Winners are also invited to join the panel of judges to participate in the judging of future award competitions.
Speaking about this prestigious nomination, Alessandro said: "I extremely appreciate that the University of Westminster supports me with this important Award. Studying in London was a very formative experience which I am very proud of."
David Brooks, Alumni Relations Officer (Alumni Experience) also shared his thoughts: "We are thrilled that Alessandro's vital work, particularly his photography in areas of conflict, has been recognised by the British Council's Study UK Alumni Awards. Being chosen as one of just 21 UK alumni around the world demonstrates the extent of Alessandro's achievements, and we are very proud of Alessandro representing our international alumni community on the global stage."
The three global winners of the Study UK Alumni Awards 2019 will be announced on 4 April.
Find out more about the British Council Study UK Alumni Awards here.