Fine Art Mixed Media BA graduate Oscar Murillo has won the Turner Prize 2019, alongside the other three nominees for the award.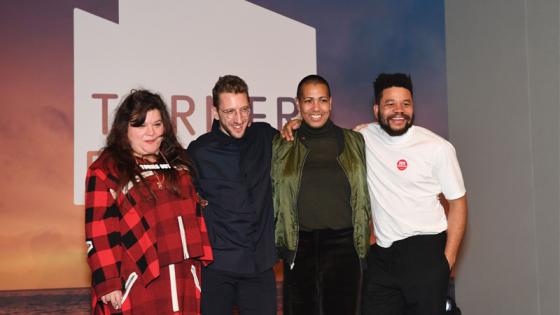 Oscar Murillo and the three other shortlisted artists have been named the winners of the Turner Prize 2019, after they came together and made a plea for judges to recognise "commonality, multiplicity and solidarity".
Murillo was selected for his participation in the 10th Berlin Biennale, his solo exhibition Violent Amnesia at Kettle's Yard, Cambridge and his solo exhibition at the chi K11 art museum in Shanghai. 
The jury praised the way that he pushes the boundaries of materials, particularly in his paintings. His work incorporates a variety of techniques and media, including painting, drawing, performance, sculpture and sound, often using recycled materials and fragments from his studio. His work reflects on his own experience of displacement and the social fallout of globalisation.
At this year's Turner prize show held in Margate, Murillo installed papier-mache worker figures on pews looking out at a sea view, obscured by a black curtain. The show has been attended by around 95,000 people so far, making it one of the most popular Turner prize shows held outside of London.
Speaking about his experience at the University, Murillo said: "The University of Westminster was my very first experience of an incredibly supportive educational system that nurtured my desire to develop into the complexities of being an artist in today's world.
"This was due to the honest relationships I had with the tutoring cohort, my peers and, to my surprise, its positive distance away from the disruptive energy of the city of London."
The collective prize was presented by the editor of British Vogue Edward Enninful, at a ceremony at Margate's Dreamland and was broadcast live on the BBC. The Turner Prize show is free to attend and will be open until 12 January at Turner Contemporary in Margate.
Learn more about the Fine Art Mixed Media BA course.
Find out more about the Turner Prize 2019 show.