Mixed Media Fine Art alumnus Matt Dowling, now Founder of Freelancer Club, delivered a talk on the secrets behind running a successful freelance business in the 'What It Takes to be a freelancer' event which took place on Tuesday 29 January.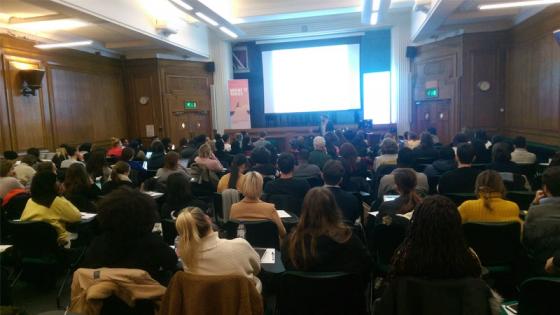 Matt, who graduated from the Mixed Media Fine Art BA Honours course in 2004, offered essential tips on how to successfully work as a freelancer, how to transition from student to freelancer, how to find freelance work, and what to expect when you embark on this alone.
Now Founder of Freelancer Club and Freelance Academy, Matt is an entrepreneur, campaigner and consultant who has featured on diverse radio, print and online publications discussing a range of entrepreneurial topics, fighting for the rights of the self-employed and addressing issues faced by freelancers.
Freelancer Club is a support network inspired by Matt's personal run-in with an unpaid £11,000 invoice that made national news, providing freelancers with essential resources to help them develop and value their talent.
Over the past eight years, the Club has assisted in the development of over 45,000 freelancers and entrepreneurs, whilst facilitating over 200,000 paid jobs. Their #NOFREEWORK campaign, which works against the exploitation of creative freelancers gained national exposure in The Guardian, The Mail and numerous online publications.
Matt Dowling's talk was attended by over 120 students and recent graduates, and received very positive feedback praising the quality of advice provided. Speaking about the essential tips to bear in mind when starting a journey towards freelancing, he said: "Remember that you are not in a rat race working in a bank with everybody else. Remember that you are doing this, what you believe in, helps massively. Write it down and stick it on your wall."
The event also enabled students and recent graduates to find out more about an all-new contest set up by the University's Creative Enterprise Centre (CEC), entitled the Big Idea Competition, which provides students with opportunities to start their journeys towards entrepreneurship.
Find out more about the 'What it Takes' series organised by the Westminster Alumni Relations team.