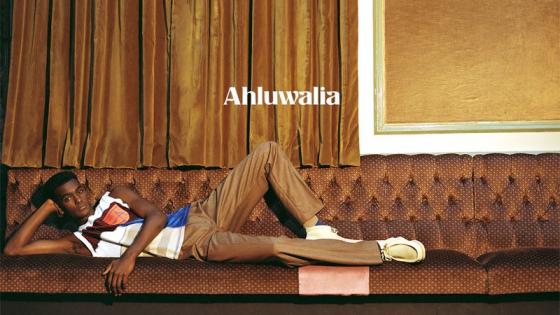 The collection, along with Ahluwalia Studio's wider works, uses an array of textile techniques to bring old garments and recycled materials back to life. The exclusive capsule collection was inspired by a collection of literary works, such as "The Black House" by Colin Jones and "Clarks in Jamaica" by Al Fingers.
Recycled materials were used to create the pieces in the collection, and it contributes to Browns's conscious effort to better direct brands towards designers and collections that are championing sustainability in their work.
Throughout her MA degree, Priya was encouraged to face her own story and history, during which time she visited Nigeria and India to learn about the second-hand clothing industry which is reflected in her apparel that is inspired by her heritage.
Talking about the collection and reflecting upon her time at the University, Priya said: "I decided to apply for the Menswear MA course at Westminster, a year after graduating from my BA and working in various design roles. I felt like I wanted to have some more time to really find out what I wanted to say as a designer.
"The capsule for Browns came from looking at two of my favourite books. One is The Black House by Colin Jones and the other is Clarks in Jamaica by Al Fingers. Both books are a celebration of black culture, style and pride."
Priya's lecturer, Liliana Sanguino Ramirez, added: "Congratulations to one of our first Menswear MA graduates, Priya, on launching an exclusive capsule for Browns. Priya has managed to promote sustainability issues to offer a relevant view on fashion in a very contemporary collection. 
"This is excellent recognition for her brand, being stocked by such an important London store. It is a well-deserved indicator of success which awaits Priya in the future."
The exclusive capsule collection is available in Browns boutiques in London, Browns Berlin and online.
Learn more about fashion courses offered at the University of Westminster.