After successful sessions with therapy dogs last semester, alpacas from the Pennybridge Alpaca farm were brought into Harrow campus on Monday 18 March to help students de-stress and improve their mental health in support of Wellness Week.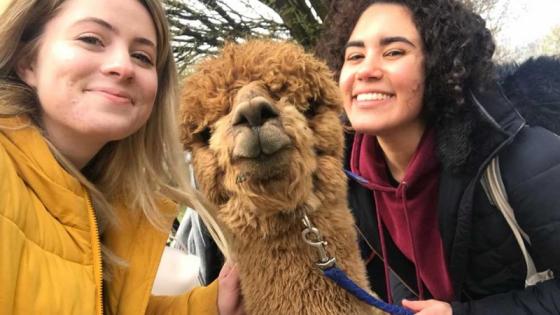 Students had the opportunity to pet, care, cuddle and take selfies with the alpacas. Animal-assisted therapy is a proven tool to improve an individual's mental, emotional and physical functioning. Holding and stroking animals can reduce blood pressure, bring relief to feelings of stress and improve people's mood.
Organiser Olivia Ponsford, President of the University's Mental Health Society, said: "After the success of the therapy dogs in helping mental health in the short term, we wanted to do it again with bigger animals. It was an amazing day and everyone was very happy with the cute Alpacas."
Based in North Hampshire, Pennybridge Alpacas is a farm that breeds beautiful Huayaca alpacas. They describe them as very individual in character, but unable to be on their own for long. Being with alpacas encourages nurturing and empathetic traits, as well as increased trust in others, improving social skills.
Find out more about other counselling services offered at the University of Westminster.