Amanda Clack has been named Honorary Doctor of Science at the Westminster Business School's 2019 autumn graduation ceremony which took place on 25 November at London's Royal Festival Hall.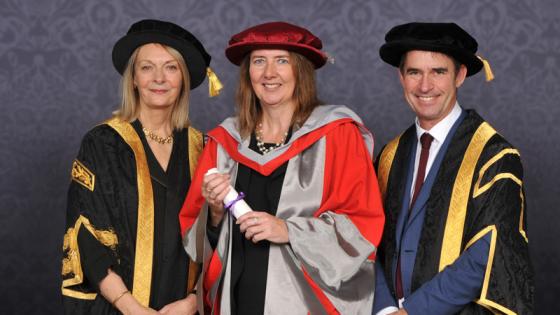 The University recognises Clack for her services to infrastructure and construction.
She is a senior property professional in real estate, infrastructure and construction with extensive 'Big Four' consulting experience gained in over 30 years in the sector.
Clack is currently an Executive Director and Head of Strategic Advisory at CBRE, the largest commercial real estate services company in the world. She is also a Member of the UK Board and Executive Committee as well as the Chair of the Strategy Board.
Clack is also a member of the Board of University College of Estate Management (UCEM), Board of London Symphony Orchestra (LSO) and the Board of Chartered Surveyors Training Trust (CSTT). She is Assistant to The Court at The Worshipful Company of Chartered Surveyors, and Liveryman of the Surveyors Livery Company.
She is the former President of the Royal Institution of Chartered Surveyors (RICS), being the longest serving President in 123 years. She was named Most Influential Surveyor in the 150th Anniversary RICS 'Pride in the Profession' award's Top Surveyors of All Time category.
Clack was previously a Partner at EY LLP where she was Head of Infrastructure (Advisory) leading on cities, transport, energy and assets. Prior to that, she was a Partner in PwC LLP where she led on business transformation.
Her achievements and work have been recognised with several awards including the Success in Business Award by Anglia Ruskin University in 2013, Women of the Year 2015 award, Women of Achievement Award for Construction and Engineering by Women in the City in 2015, and the David Bucknall Award for an Outstanding Contribution to the Quantity Surveying Profession in 2018. She was also named in the BIS Now Top 51 Most Influential Women in Real Estate 2018 list as well as in City A.M.'s Power 100 Women 2016 list. She was pronounced a Mover and Shaker of 2015 in ICAEW's Global Finance 50.
She is co-author of the book Managing Diversity and Inclusion in Real Estate (2019) and of Diversity Management in der Immobilienbranch - ein Praxisguide (2017) which is a practical guide for CEOs on diversity and inclusion in real estate.
In her citation, Professor Malcolm Kirkup, Head of Westminster Business School, said: "Our Honorary Doctor today, Amanda Clack, blames Lego and a Hornby train set for sparking her initial interest in construction. That, and spending her early years living in Essex near the M25 when it was being built, and where the Clerk of Works would drive her round the site in his Land Rover. She loved watching such a major project being developed and has not looked back since.
"Aside from her interests in property and construction, Amanda sits on the Development Board for the London Symphony Orchestra and has skippered a yacht in Antigua Race Week."
Learn more about the University of Westminster's Honorary Awards.