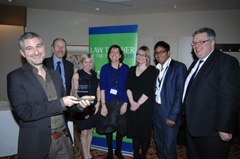 The national award, run in association with the UK Centre for Legal Education (UKCLE) and sponsored by Oxford University Press (OUP), named the University of Westminster professor of law and theory as its Law Teacher of the Year at a ceremony held at UKCLE's annual conference on Friday 28 January 2011.
Six candidates making up the shortlist were put through their paces in a judging process spanning several months. Campus visits from the judges involved observation and filming of a teaching session, interviews with the candidates, their students and heads of departments.
Paul Maharg presenting the award paid tribute to the rigorous selection and judging process, and to the diversity demonstrated by the shortlisted candidates that characterises the law teachers' role today.
Andreas's winning journey started with his nomination from nine students, and on receiving the national award he was full of appreciation.
"It feels unreal! I'd like to thank the judging committee and OUP - I'd also like to express my gratitude and happiness about being here and being short listed alongside these five wonderful people - theorists, researchers and dedicated teachers - for the award. It's an immense privilege. Also, a great thanks to the University of Westminster for allowing me to research and teach in interdisciplinary, research-led and sometimes unorthodox ways. Above all, I would like to thank my students across the years.
When the nomination by my students came through, I was actually in Barcelona and it came through on my iPhone - to be honest I was extremely emotional! We never really know the impact we have on our students - or perhaps we know and we forget about it over time. Then suddenly something like this happens (being nominated) - people start coming to see you and it's an inspiration.
The more you inspire your students, the more you are inspired - it's an inspirational experience.
Thank you!"
The other finalists were drawn from across higher education:
James Devenney, Durham University
Liz Fisher, University of Oxford
Sarah Greer, University of Greenwich
Stewart Motha, University of Kent
Zoe Swan, University of Brighton
Candidates were judged on the following criteria:
Displays an active interest in and development of approaches to teaching that influence, motivate and inspire students to learn
Demonstrates commitment to and support for the development of students as individuals
Uses effective communication skills that engage students in the learning experience
Involvement in scholarly activities that have influenced and enhanced learning both of students and colleagues