Katya Adler, BBC's Europe Editor, won the British Journalism Review's 2019 Charles Wheeler Award for Outstanding Contribution to Broadcast Journalism, which this year was celebrating its eleventh anniversary.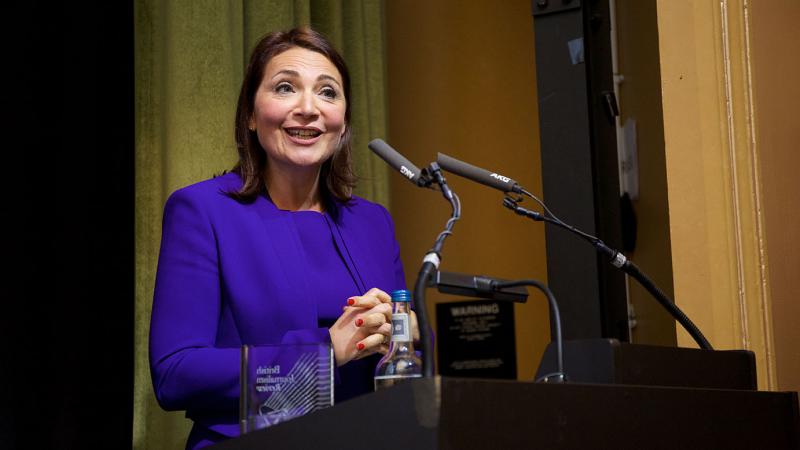 Organised by the British Journalism Review in conjunction with the University of Westminster, the Wheeler Award, now in its eleventh year, has become one of the most prestigious awards in the journalism calendar. 
Eminent broadcaster James Naughtie delivered the keynote speech at the ceremony, which took place on Monday 17 June at the University of Westminster's Regent Street Cinema.
Katya's outstanding contribution was celebrated during a ceremony opened by Professor Roland Dannreuther, Deputy Vice-Chancellor (Education), who said: "It is a well-deserved award for Katya's enormous contribution to journalism and her coverage of Brexit. This is an inspiration for all of our journalism students." Katya Adler received her award from Sir Charles Wheeler's daughters Marina and Shirin.
During her distinguished career, Katya has reported from Kosovo, Asia, North Africa, Mexico, Gaza, Lebanon, Syria and Libya as well as most European countries. She has written and presented current affairs programmes on the BBC World Service and several long documentaries, as well as recent programmes on the impact of Brexit on both the UK and Europe. 
Katya's ability to decipher and explain the EU's approach to Britain's political gridlock has been a defining feature of BBC coverage over the last two years, culminating more recently in the unmissable Brexitcast podcasts. 
Following the presentation of the award, eminent broadcaster and author James Naughtie, delivered a keynote address, which was followed by a question and answer session chaired by Steven Barnett, Professor of Communications at the University of Westminster and BJR Board member. Naughtie spoke eloquently about the coarsening of political discourse and the challenge this presents to serious journalism. His lecture will be published by the British Journalism Review in September. 
Previous winners of the Charles Wheeler Award include George Alagiah (2016), Lyse Doucet (2017) and Michael Crick (2018).
Carousel photo credits: George Aslanidis
Photo 1: Julia Langdon, Chair of British Journalism Review
Photo 2: Keynote speaker, broadcaster and author James Naughtie
Photo 3: Attendees at the event
Photo 4: Left to right: BA Journalism student Earyel Bowleg, Dame Ann Leslie, Journalism Lecturer Anastasia Denisova, Director of BBC News and Current Affairs Fran Unsworth and Journalism Lecturer Ed Bracho-Polanco
Photo 5:  Left to right: Deputy VC Roland Dannreuther and Professor Steve Barnett
Photo 6: Left to right: Professor Steve Barnett and James Naughtie