Join our careers consultant, Iram Sial, as she speaks with University of Westminster Building Surveying alumnus Rob Cohen – MD of the MJ Group International – on his weekly webinar for students, graduates and young professionals in property.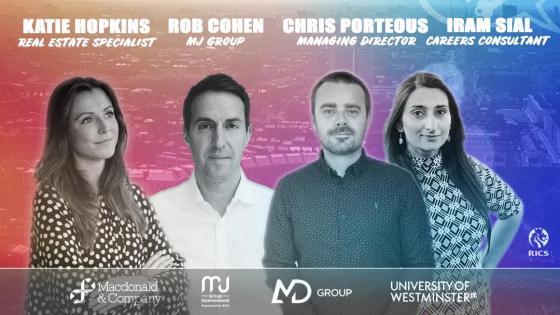 Iram Sial is excited to join real estate recruitment experts Chris Porteous and Katie Hopkins on Friday 3rd July at 1pm for a Live Q&A 'Careers & HR Special' webinar, open to all.
Invited by host Rob Cohen, MD of MJ Group International, together they will be answering your questions and discussing how to successfully navigate your career in the current climate.
The panel will be providing useful information, advice and expertise on all things careers related, including what you can do presently to enhance your knowledge, skills and experience.
The webinar is aimed at students, graduates, entrepreneurs and young professionals not only within real estate but any field. Everyone interested is welcome to attend and ask questions as we'd like to encourage as wide and diverse attendance as possible.
Registration
To sign up and join in this discussion, please register on GoToWebinar.
This event is part of a weekly webinar series run by host Rob Cohen.