Join a panel of alumni as they provide insight into how to navigate your way through 21st-century careers.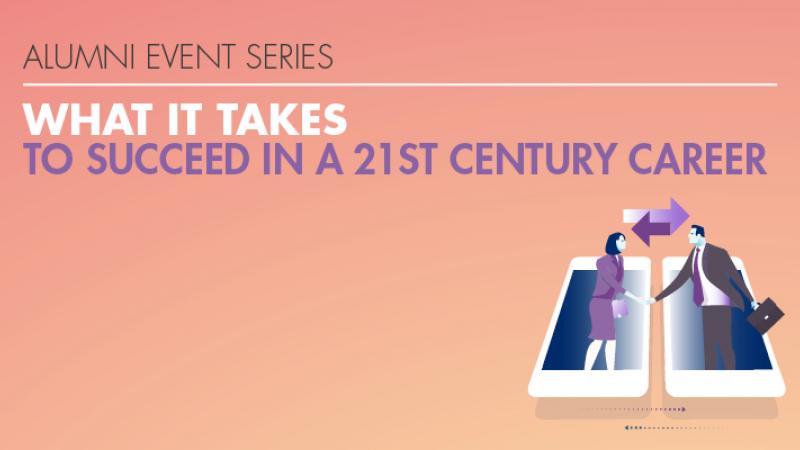 The panel will speak about how jobs have changed, give advice on preparing for life after university, and they will answer questions such as:
Is their career journey what they expected?
How did they end up where they are today?
Which tech, digital and media skills have helped them along the way?
Due to being in the midst of the digital revolution, the job market and the skills required have rapidly changed, so come along to find out what it really takes to succeed in a 21st century career.
There will be time to ask the panel questions both during the Q&A and informally after the event with refreshments and networking.
This event is organised in partnership with our Creative Enterprise Centre (CEC). The CEC run an award-winning programme of workshops and events to aid students, graduates and alumni to develop transferable enterprise and employability skills, and to gain practical and first-hand industry insights and networks. You can browse and book onto any of the upcoming CEC workshops and events via the CEC Engage page and the CEC Eventbrite page.
Speakers
Manimekala Fuller - Founder and Designer, Manimekala
(Fashion Design BA Hons, 2018)

While studying on Westminster's prestigious Fashion BA (Hons) course, Manimekala Fuller gained international experience in the fashion industry, interning under designers Manish Arora and Roksanda Illinčić, amongst others. Upon graduation, her love for colour and pattern as a form of wearable expression led her to establish her namesake brand, Manimekala. Bold and eclectic, her unique statement clothes are for those who want to stand out. With an emphasis on transparent and positive production methods, Manimekala combines aesthetics and ethics, working in partnership with social enterprises both in the UK and in India, as a reflection of her heritage. She has been nominated for both design and entrepreneurship awards, and recently made her London Fashion Week debut.
Georgiana Mariut - Consultant at NINE by SATIGO (International Relations and Development BA Hons, 2018)
Georgiana is currently a Multilingual Cyber Security Recruiter at NINE by SATIGO in London. After graduating in International Relations and Development from Westminster in 2018, Georgiana completed a Master of Laws (LLM), specialising in Human Rights, from Birkbeck, University of London. Georgiana has a mix of international experience, working in different sales environments. Over the last two years, she has built a strong track record as a 360 consultant in the Cyber Security arena, and is truly passionate about building relationships with talented prospective sales candidates. Georgiana works vigorously across time-zones to help her clients secure the right candidates, with niche cyber domain knowledge. Her focus is to integrate geographical and cultural aspects of the markets with key networks globally.
Paras Fatnani - Global Marketing and Communications Director, QS and Co-Founder of Honey Twigs (Marketing Communications MA, 2010)
Paras Fatnani is Global Marketing and Communications Director at QS Quacquarelli Symonds, an international company serving the higher education sector. In this role, Paras oversees global candidate acquisition, engagement, social media marketing, and event marketing for all of QS' Business-to-Customer (B2C) products, and he controls operations that directly reach over 70 million aspiring students annually. Paras has also contributed business strategy and marketing expertise to several entrepreneurial and non-profit ventures over the years. In December 2014, he co-founded Honey Twigs, a brand that aims to help consumers adopt healthier lifestyles by making small changes in everyday eating habits by offering easy to use healthier alternatives in convenient and innovative packing solutions. In this role, Paras oversees business vision and growth, while driving the company's global marketing and new business strategy.
Keeran Gunnoo, Head of Brand & Attraction, Sky (Business and Human Resource Management BA Hons, 2006)
Keeran has mastered the art of storytelling since graduation, enabling her to increase engagement and reach for companies wishing to grow and hire diverse candidates that want to work and grow with them. She also empowers them to share their loves and passions, while representing their companies as brand ambassadors, helping these companies shape who they are, define their purpose and bring to life their value proposition. During her career, she has been fortunate to personally work with the CEOs of LinkedIn, Glassdoor, Unilever and Avon, and also met with former President Barack Obama. In 2016, Keeran delivered an inaugural lecture as part of the launch of our Westminster Marketing Society and was recognised by the Dean of Westminster Business School as one of our most notable alumni.
Location
Portland Hall, 4-12 Little Titchfield Street, London W1W 7BY
View map and accessibility information for this venue