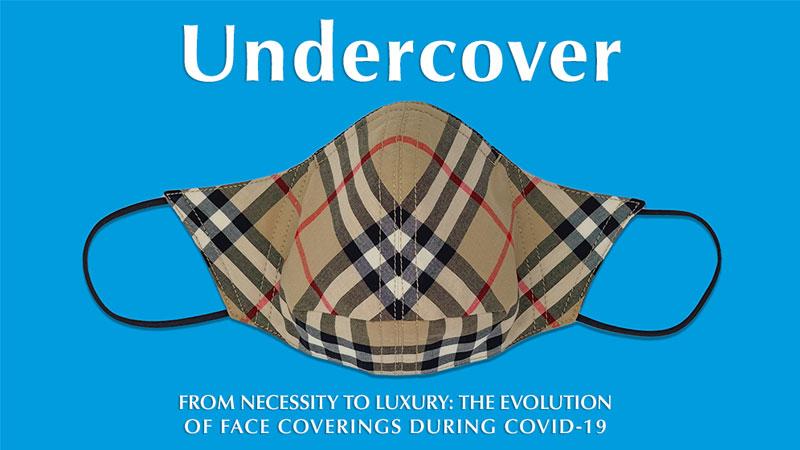 About the event
Opening on 11 May 2021 (one year on from when the UK government first advised people to wear face coverings in enclosed public spaces), the exhibition will explore how masks have evolved from being a functional PPE object in short supply, to becoming an everyday object worn by millions. The simple cloth face covering, which appears to be an unassuming and uncomplicated object, has quickly become a symbolic and contentious artefact.
The exhibition will present 52 unique face covers arranged in chronological order. It will examine how rapidly the fashion industry adapted production, manufacturing, and online marketing to meet changing consumer demands. Brands responded quickly to support the global effort to produce PPE for medical personnel. As masks became mandatory, this shifted to labels developing and manufacturing face coverings for their own customers.
It will explore how these ordinary objects have been transformed from their medical origins to become a highly desirable fashion accessory produced by companies ranging from BoohooMAN to Louis Vuitton. While these masks appear to be non-gendered, their design, marketing, and wearing reveal long-running narratives within menswear concerned with ideas of protection, risk, and masculinity.
The exhibition features examples from Adidas, Balenciaga, BoohooMAN, Burberry, C.P. Company, Fakescum, Ahluwalia, Liam Hodges, Mulberry, Raeburn, Christopher Kane, Master-piece, Huntsman, JW Anderson, Levi's, Liberty, Louis Vuitton, Manchester City FC, New & Lingwood, Off-White, Paul & Shark, Paul Smith, Sunspel, Turnbull & Asser, Vivienne Westwood, and WAWWA.
Access the event
The exhibition will be accessible online from Tuesday 11 May at the Menswear Archive website and will also be accessible on the Menswear Archive Instagram page.
About the Westminster Menswear Archive
The Westminster Menswear Archive was founded to establish and maintain a collection of garments and related artefacts to encourage and develop the study of menswear design from a technical and functional point of view; to advance the general knowledge of menswear as a design discipline, and to be used as a resource tool to inform contemporary menswear design.  
The archive will strive to inform, encourage and inspire a diverse range of students, industry professionals, researchers and other users in support of their creativity, learning and research in fashion and related subjects.  It will also underline the importance and relevance of the Westminster fashion archive within contemporary fashion, fashion education, research and scholarship and fashion practice, as well as with the broader public.
The Westminster Menswear Archive has examples of some of the most important and exciting menswear garments covering the last 100 years. The archive includes garments from the following designers:
Adidas, Aitor Throup, Alexander McQueen, Aquascutum, Austin Reed, Barbour, Belstaff, Berghaus, Bernhard Willhelm, Blades, BodyMap, Bonneville, Bukta, Burberry, Burton, C.P. Company, Calvin Klein, Carol Christian Poell, Christian Dior, Comme Des Garcons, Craig Green, Dolce & Gabanna, Gieves, Griffin, H&M, Harrods, Helmut Lang, Irvine Sellars, Issey Miyake, Jean Paul Gaultier, Jeremy Scott, Jeremy Scott, John Stephens, Junior Gaultier, Kim Jones, Left Hand, Levi's, Lewis Leathers, Liam Hodges, Martin Margiela, Masimo Osti, Meadham Kirchhoff, Michiko Koshino, Mr Fish, Nanamica, Nigel Cabourn, Palace, Paul Smith, Penfield, Prada, Ralph Lauren, Sibling, Stone Island, Tom Gilby, Tommy Nutter, Umbro, Undercover, Vexed Generation, Vivienne Westwood, Walter Van Beirendonck, Zegna Sport.
Additionally, the archive includes an extensive range of utilitarian and uniform garments from the Army, Police, US Marines, GPO, Coldstream Guards, the French fire service and others.