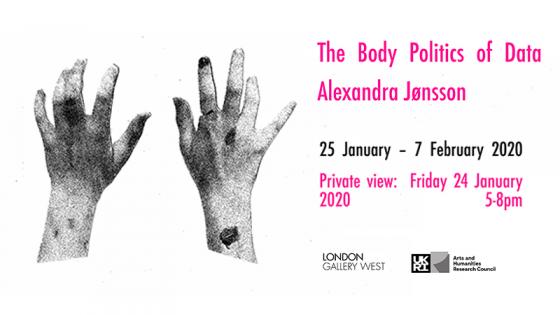 A PhD Degree Show
The exhibition showcases artistic projects and experiments created throughout Alexandra Jonsson's postgraduate research at the Centre for Research and Education in Arts and Media (CREAM), Westminster University, funded by the AHRC. It features projects exploring how maternity data is collected and used with The Body Recovery Unit (BRU) and maker and researcher Loes Bogers, public "Life Drawing the Attention Theft" events hosted by Deptford Cinema, and experiments in raising data as a collective concern with Autonomous Tech Fetish (ATF) and artist-researcher Cliff Hammett.
The research explores how feminist artistic practice can inform new ways of thinking about the enormous amounts of data that we produce on a daily basis by shifting the focus from what data tells us to the conditions under which data is made. The exhibition invites you to reflect on how digital processes take hold of the body in different ways by showing the 'material and visual thinking' of artistic research. From drawing experiments, tea-drinking, body maps and care installations, the exhibition brings experimental engagements, collaborations and performative artworks with the social costs and bodily risks of data production to the fore.
To book a workshop, private tour or school gallery visit with assistant curator Anika Tabachnick in the exhibition period contact [email protected] for dates and times.
Private view
Friday 24 January 2020
5-8pm
Location
London Gallery West, University of Westminster, Watford Road, HA1 3TP