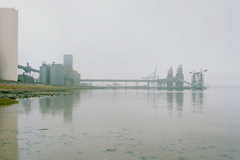 London Gallery West is delighted to present an exhibition of photographic and video work exploring the English landscape. The exhibition brings together for the first time three distinct but complementary projects produced over the last decade; The Hush House: Cold War Sites in England; Soundings from the Estuary and Isles of Grain. All three projects engage with the way photographic space depicts specific environments in a way that raises questions about the perception of the sites.
The Hush House project examines the hidden military sites left abandoned after the end of the Cold War, many of them occupied by the American Air Force and used for the storage of nuclear weapons. The central theme of the work is to consider the relation between military architecture and the backdrop of the English countryside as well as the way such rural areas were colonised by the American military.
Soundings from the Estuary is an ongoing project that examines the Thames Estuary as a marginalised site threatened not only by urban expansion but also rising sea levels. The Thames Estuary is a relatively flat landscape, lacking the traditional attributes of the picturesque. The features that are prominent include landfill sites, prisons, oil refineries and industrial debris left scattered along the river's foreshore, amongst which also lie industrial and military ruins. As London's urban sprawl extends eastwards, the estuary is now perceived through the government agency of The Thames Gateway project as a potential space for new towns and another London airport. However, this scenario conflicts with predictions of rising sea levels from global warming that would subject much of the low - lying marshland of the area to flooding. Soundings from the Estuary involves photographically depicting the existing landscape whilst also envisaging a future view of the estuary blighted by the effects of global warming.
The video work in the exhibition, Isles of Grain, is a collaboration with sound artist Dave Lawrence (www.sponde.co.uk) which challenges the photograph's capacity to view the world as both mute and still by introducing sampled ambient and composed sound back into the photograph. The images in this work have been 'animated' and the photographic surface interpreted by Lawrence as a musical score.
Frank Watson is a photographer and researcher who currently lectures in photographic theory and practice at the University of Westminster. His work has been exhibited widely including at the Design Museum and the Museum of London. He has curated two exhibitions including Living in This Mess (2002) and Soundings from the Estuary as part of the London Festival of Architecture (2008). He has also published a book, The Hush House: Cold War Sites in England (Art Data, 2004).
Exhibition Opening Times:
9am – 5pm daily
Private View:
Thursday 4 November, 5pm – 8pm
Gallery Talk:
Wednesday 10 November 2010, 1 – 2pm
Frank Watson in conversation with Dr Eugenie Shinkle, Senior Lecturer in Photographic Theory and Criticism at the University of Westminster.
London Gallery West
University of Westminster
Watford Road
Harrow
Middlesex HA1 3TP
Tel: +44 (0) 20 7911 5970