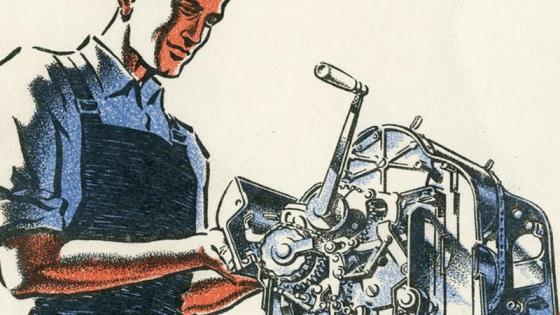 Convened by Alt Går Bra
The art group Alt Går Bra present an international conference exploring the political and artistic role of the mimeograph.
Mimeographs are the stuff of legends for anyone studying alternative and underground publications. Mimeograph machines democratised the printing and publishing medium, enabling a host of political and artistic groups to disseminate ideas outside of the mainstream printing presses, and establishing international artistic and political networks.
With the aim of encouraging a new perspective on mimeo publications, the conference will bring together historians of art and visual culture from the UK, USA and Japan to discuss the impact of the mimeograph in the 20th century and what it can teach us today.
The event will be taking place in the fantastic Ambika P3, a 14,000 square ft space developed from the vast former concrete construction hall for the University of Westminster's School of Engineering.
The conference will coincide with Alt Går Bra's exhibition The Art of the Gestetner at Bruce Castle Museum, featuring over 150 mimeo'd publications, newspapers and other documents, alongside mimeographed works by Alt Går Bra. The exhibition runs until 24 February. For more information on the exhibition visit Haringey Council website.
A duplicating publishing workshop with Architecture BA Honours Year 3 Studio DS(3)1 will coincide with the conference.
The conference programme and workshop are organised in collaboration with Jane Tankard, Senior Lecturer/ Architect (RIBA ARB) and Tom Grove, visiting lecturer.
Presented with the support of Norske Billedkunstnere, Bergen Kommune, Office of Contemporary Art Norway (OCA) and the Norwegian Embassy London.
Programme
Thursday 7 February
08.45: Welcome and arrivals. Tea and Coffee
09.10: Conference Opening by Alt Går Bra and Senior Lecturer Jane Tankard
09.20 – 10.05: Alt Går Bra Technology and Labor, A 21st Century Artistic Experiment With a 20th Century Machine
10.15 – 11.00: John May The Generalist Archive's mimeo publications, History of the Underground Press Syndicate (UPS) and UK Alternative and Underground Publications
Tea and Coffee
11.20 – 12.05: Elizabeth Haven Hawley "Duplicating for the Movement"
12.15 – 13.00: Jess Baines Community Activism, Papers and Printshops
Lunch
14.00 – 14.45: Teal Triggs Zines and the Graphic Language of Duplication
14.55 – 15.40: Talk -  Rob Hansen and Oscar Mac-Fall The Mimeograph and Science Fiction Fandom in the UK
15.50 – 17.00: Video Screening Human Mimeo: MidAmeriCon (1976) Worldcon Mimeo Fanzine Workshop (1:24:31) MidAmeriCon, the 34th World Science Fiction Convention, was held in Kansas City in 1976. Featuring Linda Bushyager, Moshe Feder, Patrick Hayden, Victoria Vayne, Gary Farber, Jon Singer and Taral Wayne MacDonald, this video screening is a look at the fanzine production practices of 20th century fandom.
Friday 8 February
09.00: Welcome and arrivals. Tea and Coffee
09.20 - 10:05: Gwen Allen The Aesthetics and Politics of Mimeograph in 0 To 9 Magazine, 1967-1969
10.15 – 11.00: Bruce Wilkinson Hidden Culture, Forgotten History: Little Poetry Magazines, Diverse Countercultures and Their Lasting Impact
Tea and Coffee
11.20 - 12:05: Douglas Field "'A Paper Exhibition in Words, Pages, Spaces, Holes, Edges and Images:' Jeff Nuttall, William Burroughs and My Own Mag."
12:15 - 13:00: Ueno Hisami Mimeograph: The Fertile Field Between Industry and Art in Modern Japan
Lunch
14:00 - 14:45: Alessandro Ludovico The Mimeograph and Post-Digital Print
15:00 - 15:45: Talk David Mayor and Dr Amy Tobin Beau Geste Press: a 'community of duplicators, doing, discovering and disseminating'
15:55 Conference closing by Alt Går Bra
16:15 - 18:15: Closing Performance by Cephalopedia Kitchin Publishing – Chopping up the Past and Stapling it Together: A homage to Martha Hellion and Takako Saito, and in memoriam Felipe Ehrenberg
Biographies
Alt Går Bra
Alt Går Bra is a group of visual artists researching the intersections between art and politics through exhibitions, publications, and a series of discursive events at Bergen Kunsthall. Alt Går Bra is a pioneer in artistic, theoretical, and field research on the duplicator. In 2016, AGB published The Mimeograph, A Tool for Radical Art and Political Contestation, a compilation of texts by contemporary scholars worldwide dedicated to mimeography.
John May
John May is an investigative journalist, editor, archivist counter-culture/environmental activist. and author/co-author of 18 books. His vast collection of magazines has been collected together as the Generalist Archive, which formed an important part of the exhibition Print! Tearing it up at Somerset House in 2018. He was a regular contributor for NME from 1975-1982, writing under the pseudonym Dick Tracy. He is also a BOHO musician, beatnik poet and young elder. He has been blogging at THE GENERALIST since 2005 and has produced 940 posts to date.
Elizabeth Haven Hawley
Elizabeth Haven Hawley, PhD, is chair of the Special and Area Studies Collections Department at the George A. Smathers Libraries, University of Florida. She is a historian of technology who specialises in forensic analysis of print and socio-political aspects of print culture. She previously served as visiting faculty in the History of Science and Technology Program and as program director of the Immigration History Research Center at the University of Minnesota.
Jess Baines
Jess Baines is a Senior Lecturer for Contextual and Theoretical Studies across the School of Design at London College of Communication. Her research interests are currently concerned with the relationships between aesthetics, politics, technology and organisation. Jess's career spans involvement in design and print co-operatives. She is currently pursuing a PhD at London School of Economics (LSE) on the history of late twentieth century radical printing workshops.
Teal Triggs
Teal Triggs is Professor of Graphic Design and Associate Dean for the School of Communication, Royal College of Art, London. She is also Adjunct Professor at RMIT in Australia. As a graphic design historian, critic and educator she has lectured and broadcast widely and her writings have appeared in numerous edited books and international design publications. including co-editor with Leslie Atzmon of The Graphic Design Reader (Bloomsbury), author of Fanzines (Thames & Hudson), and the children's book The School of Art (Wide Eyed) which was shortlisted for the ALCS 2016 Educational Writer's Award. She is a Fellow of the International Society of Typographic Designers and the Royal Society of Arts.
Rob Hansen
UK fan historian, active in Fandom since the mid-1970s, who has edited and co-edited numerous mimeographed Fanzines including his debut production Epsilon (1976-1985). In 2016, Hansen released the results of extensive research on the history of UK fandom assembled as Then: A History of Science Fiction Fandom in the UK: 1930-1980 (Ansible Editions).
Lawrence Upton
Lawrence Upton is a poet, graphic and sound artist. Together with Bob Cobbing, Upton co-edited the influential Word Score Utterance Choreography and Domestic Ambient Noise, a series of 300 pamphlets from 1994 until 2000. Since Bob Cobbing's death in 2002, Upton convenes Writers Forum, a small publisher and writers' network. Writer's Forum has published numerous books and pamphlets including works by John Cage, Allen Ginsberg and Brion Gysin. Upton has exhibited his work in solo shows including From Recent Projects (2012) and written musical pieces including Photo, Synthesis (for solo viola) commissioned by Benedict Taylor (Subverten, 2013).
Bruce Wilkinson
Involved with the 1990s small press scene, Bruce Wilkinson co-edited Vertigo (Booth-Clibborn Editions, 2001) - contributing reviews to Bypassmagazine which collated and contextualised British fanzines. Bruce Wilkinson is the author of Hidden Culture, Forgotten History: A Northern Poetic Underground and its Countercultural Impact (Penniless Press, 2017). Currently a fellow at the University of Manchester's John Rylands Research Institute, Bruce is further developing his research working on the Dave Cunliffe archive.
Douglas Field
Douglas Field is senior lecturer in 20th century American literature at The University of Manchester. He is the author of several books on James Baldwin, including All Those Strangers: The Art and Lives of James Baldwin(2015) and the co-editor of An Aesthetic of Obscenity: Five novels by Jeff Nuttall (2016) and the new edition of Jeff Nuttall's Bomb Culture (2018). He is a frequent contributor to the Times Literary Supplement.
Ueno Hisami
Ueno Hisami Graduated from Kanazawa Collage of Arts, aesthetics and art history course, Bachelor of fine Arts, before going on to work at Koriyama City Museum of Arts. Ueno Hisami has been curator at The Museum of Modern Art Wakayama since 1992, where she specialises in modern Japanese art and conservation. In 2012, Ueno Hisami curated an exhibition on the artistic history of the Mimeograph in Japan at MOMA Wakayama, including works by SHIMIZU Takejiro (1915-1993), FUKUI Ryonosuke (1923-1986), and WAKAYAMA Yasouji (1903-1983).
Alessandro Ludovico
Alessandro Ludovico is a researcher, artist and chief editor of Neural magazine since 1993. He received his Ph.D. degree in English and Media from Anglia Ruskin University in Cambridge (UK). He is Associate Professor at the Winchester School of Art, University of Southampton and Lecturer at Parsons Paris – The New School. He has published and edited several books, and has lectured worldwide. He also served as an advisor for the Documenta 12's Magazine Project. He is one of the authors of the award-winning Hacking Monopolism trilogy of artworks (Google Will Eat Itself, Amazon Noir, Face to Facebook).
David Mayor
David Mayor was a member of the Beau Geste Press community from 1971-76. Founded by Felipe Ehrenberg and Martha Hellion, BGP was one of the most influential small presses of the 1970s, publishing works by artists and writers from around the world, including Cecilia Vicuña, Ulises Carrión, Helen Chadwick and Carolee Schneemann. At BGP, Mayor produced the magazine Schmuck, originally mimeographed, with later issues printed using offset. An acupuncture practitioner since 1982, Mayor has published on acupuncture since 1996, researching the effects of acupuncture-based interventions on the brain and heart since 2011. Mayor reconnected these disparate facets of his life as a member of 'Cephalopedia' – a name thought up by Martha Hellion when taking part in one of the group's performances in Paris in 2018.
Amy Tobin
Dr Amy Tobin lectures in the History of Art at the University of Cambridge and is a curator at Kettle's Yard, Cambridge. She has published essays inTate Papers, British Art Studies, and MIRAJ and is co-editor of London Art Worlds: Mobile, Contingent and Ephemeral Networks 1960–1980 (Penn State University Press, 2018) with Jo Applin and Catherine Spencer.
Cephalopedia
Cephalopedia is a loose-knit international group of experimental artists and performers, combining traditional and innovative sound media, dance and theatre, with a neuroscience edge. Cephalopedia's performances involve improvisation, chance and audience participation, as well as an interweaving of structures that allow an exploration of the group's commitment to creative learning and changing states of consciousness. The group consists of David Mayor, Aiste Noreikaite, Olly Dowlen, Zoë Dowlen, Tony Steffert, Berenice Benjelloun and Inês Rolo Amado.