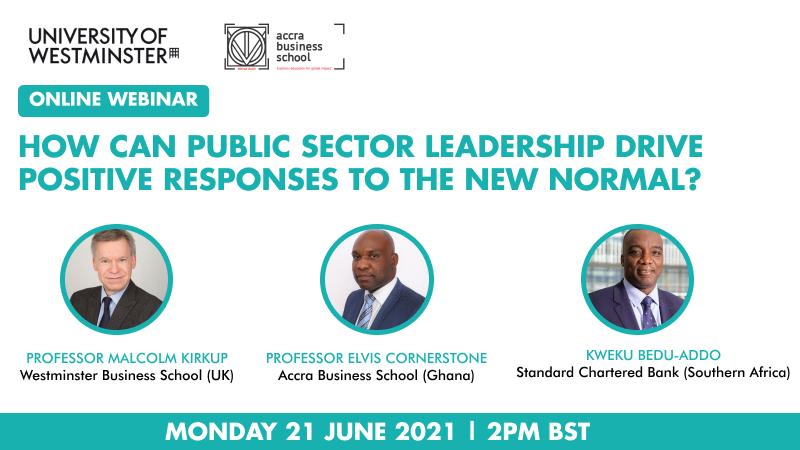 The demands on public sector leaders have changed substantially in recent years, but what about the next ten years?
We will hear from our panellists, who are leaders working across Africa and Europe, to better understand the capabilities that today's public sector leaders and future leaders should be developing. The discussion will include the role of technology and creating workplaces that have a sense of purpose and inclusion.
Our panellists will be pleased to answer your questions during the Q&A session.
This panel debate has been co-organised in partnership between:
Accra Business School
Westminster Business School
Westminster Development Policy Network
Panel line-up
Kweku Bedu-Addo
Chief Executive Officer for Standard Chartered Bank (Southern Africa) with a previous career in public policy
Professor Elvis Cornerstone
Vice President, Accra Business School (Ghana) and Chair of Economics, Institute of Economics and Finance (Ghana)
Professor Malcolm Kirkup
Pro Vice-Chancellor and Head of College, Westminster Business School, University of Westminster (UK)
Register for this event
The session is free and open to all. Registration for this event is via Zoom.
Register nowGo to the Special online panel debate registration page