Westminster Law School is pleased to announce the re-launch of the Centre for Law, Gender, Race and Sexuality.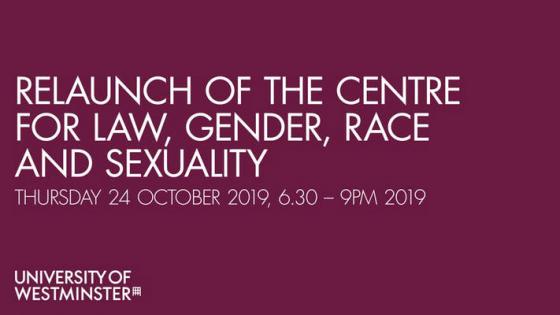 Westminster Law School has long been the site for research and teaching of feminism, gender and sexuality. Equally, racial identity has been a fundamental consideration and research topic for our staff and students alike, particularly because Westminster University is one of the most diverse in the United Kingdom where the actuality of working in a community where people come from different backgrounds is not an abstract idea but a lived reality. The evolving political landscape has meant that issues of racialised inequalities have been thrust to the fore. Influenced by movements to broaden access and diversity and calls to decolonise the curriculum we have decided to specifically include race within the remit of the Centre.
To discuss this development and to celebrate the re-launch of our Centre we invite you to a panel discussion. The panel speakers are:
Manvir Grewal, University of Westminster (Visiting Lecturer)
Dr Suhraiya Jivraj, University of Kent (Senior Lecturer in Law , Deputy Director of Education (Decolonise the Curriculum), and Co-Director of Centre for Sexuality, Race and Gender Justice)
Dr Alex Dymock, Goldsmiths University (Lecturer in Law)
Professor Dibyesh Anand, University of Westminster (Head of Politics and International Relations), (Discussant)
All are welcome, but space is limited and registration is essential.
The Pavilion, University of Westminster, 115 New Cavendish Street, London, W1W 6UW