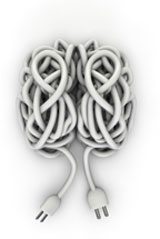 Free Evening Talks in Popular Psychology
Visit the University of Westminster to hear local psychologists talk about their latest experiments, life in the lab, and why psychology matters to everyone, all in the space of an hour after work.
Plug in Your Brain talks are open to all and hosted by the Department of Psychology, University of Westminster.
Does Freud Suck?
Most people will know Sigmund Freud as the interpreter of dreams and the unconscious mind, but what did he really say and what do psychologists really think of him? Social psychologist Alan Porter puts the life and work of Freud in context.
Talks start promptly at 6pm and take place at our headquarters Regent Street building.
To book your place visit our online booking form.
Remaining programme 2011/12
Lovestruck
Thursday 16 February 2012, 6 - 7pm
Get into the spirit of Valentine's Day as one of the world's leading experts in the psychology of love and attraction, Dr Viren Swami, talks about what makes us attracted to others and why we fall in love. Think opposites attract, that looks matter, or that playing hard-to-get works? Think again.
Heartbreak in Cyberspace
Thursday 15 March 2012, 6 - 7pm
Looking for love online can work – or go horribly wrong. Social psychologist Dr Tom Buchanan talks about online romance scams: how they work, who falls victim, and what can be done about them.