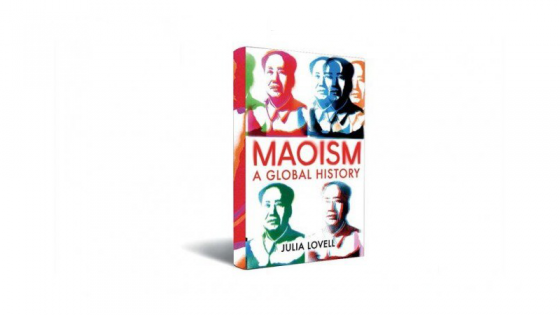 About this event
In this book event, Professor Julia Lovell will be talking about her new book on Maoism as a global phenomenon with Professor Harriet Evans as discussant.
For decades, the West has dismissed Maoism as an outdated historical and political phenomenon. Since the 1980s, China seems to have abandoned the utopian turmoil of Mao's revolution in favour of authoritarian capitalism. But Mao and his ideas remain central to the People's Republic and the legitimacy of its Communist government. With disagreements and conflicts between China and the West on the rise, the need to understand the political legacy of Mao is urgent and growing.
The power and appeal of Maoism have extended far beyond China. Maoism was a crucial motor of the Cold War: it shaped the course of the Vietnam War (and the international youth rebellions that conflict triggered) and brought to power the murderous Khmer Rouge in Cambodia; it aided, and sometimes handed victory to, anti-colonial resistance movements in Africa; it inspired terrorism in Germany and Italy, and wars and insurgencies in Peru, India and Nepal, some of which are still with us today – more than forty years after the death of Mao.
In this new publication on new history, Julia Lovell re-evaluates Maoism as both a Chinese and an international force, linking its evolution in China with its global legacy. It is a story that takes us from the tea plantations of north India to the sierras of the Andes, from Paris's fifth arrondissement to the fields of Tanzania, from the rice paddies of Cambodia to the terraces of Brixton.
Starting with the birth of Mao's revolution in northwest China in the 1930s and concluding with its violent afterlives in South Asia and resurgence in the People's Republic today, this is a landmark history of global Maoism.
Location
Cayley 152-153, University of Westminster, 309 Regent Street, London W1B 2HW
About the speakers
Professor Julia Lovell
Julia Lovell is Professor of Modern China at Birkbeck College, University of London. Her two most recent books are The Great Wall and The Opium War (which won the 2012 Jan Michalski Prize). Her many translations of modern Chinese fiction into English include Lu Xun's The Real Story of Ah Q, and other Tales of China (2009). She is currently completing a new translation of Journey to the West by Wu Cheng'en. She writes about China for several newspapers, including the Guardian, Financial Times, New York Times and Wall Street Journal. She has also received many accolades, including winning the 2019 Cundill History Prize and nominations for the Baillie Gifford Prize for Non-Fiction 2019, the Nayef Al-Rodhan Prize For Global Understanding and the Deutscher Prize.
Professor Harriet Evans
Professor Harriet Evans is Professor Emerita of Chinese Cultural Studies (University of Westminster) and Visiting Professor of Anthropology (LSE). She has written extensively on the politics of gender and sexuality in China, and on political posters and visual culture of the Mao era. Her main publications are Women and Sexuality in China: Dominant Discourses of Female Sexuality and Gender since 1949 (1997), Picturing Power in the People's Republic of China: Posters of the Cultural Revolution (co-edited with Stephanie Hemelryk Donald, 1999), and The Subject of Gender: Daughters and Mothers in Urban China (2008). Her Beijing from Below: Stories of Marginal Lives in the Capital's Center (Duke University Press) will be published in May 2020. She is currently working on a volume to mark the completion of a three-year research project, funded by the Leverhulme Trust, under the title Grassroots Values: Localities and Cultural Heritage in China.