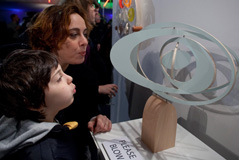 The catalogue of the first two years of P3 exhibitions introduces the space and its history, and the initial programme of events Ambika at P3. It includes essays on the approach to making the space into project space for exhibitions and events by students, staff and researchers of the university, and for partnership arts projects, and for commissioned work; and to making the space available for commercial lets to the industry end of the creative economy of London. A timeline takes us through all the projects held in P3 during the first two years during which time thousands of visitors have come to the University to take part in and attend the events and exhibitions, and made possible by the gift of the Ambika Paul Foundation, and with sponsorship for specific exhibitions from the Henry Moore Foundation, Sheppard Robson, the Esmee Fairburn Trust, Arts Council England, the Architecture Centre Network, the Arts and Humanities Research Council (AHRC) and the Royal Institute of British Architects (RIBA).
Kinetica Art Fair is produced by Kinetica Museum in partnership with Ambika P3 and is the first of its kind in the UK. It provides collectors, curators and the public with a unique opportunity to view and purchase artworks from leading contemporary arts organisations and artists specialising in kinetic, electronic, robotic, light, sound, time-based and interdisciplinary new media art. For 2010, over 35 galleries and organisations are taking part with over 150 artists exhibiting.
The inaugural 2009 Kinetica Art Fair was a seminal cultural event, attracting over 9,000 visitors, and increased the importance and value of kinetic, electronic and new media art on a global level as well as in the mainstream arts press. Kinetica Art Fair 2010 will again take place at Ambika P3, at The University of Westminster 35, Marylebone Rd (opposite Madame Tussauds).
View a news story about this on the BBC News website
Photo credit: Dave Freeman/P3