The Third World in Theory reading group (TWT) resumes its engagement with theoretical orientations towards the Third World within academia.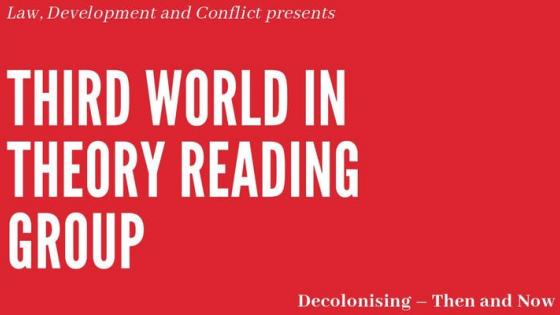 For the 2019-20 academic year, TWT will be discussing the topic 'Decolonising – Then and Now'.
The Third World in Theory reading group is open to all. The group meets once every three weeks on Thursdays from 6pm – 8:30pm.
For more information, see the Law, Development and Conflict research group's website or join the Third World in Theory Reading Group.
Location
To be confirmed.
Recommended reading
Wilderson III, Frank B (2014). "The Black Liberation Army & the Paradox of Political Engagement" in Postcoloniality – Decoloniality – Black Critique: Joints and Fissures, edited by Sabine Broeck, Carsten Junke. Frankfurt: Campus Verlag GmbH.
Frank Wilderson III (2003). "Gramsci's Black Marx: Whither the Slave in Civil Society?" Social Identities, 9:2, 225-240. Kevin Ochieng Okoth
Kevin Ochieng Okoth is an independent writer and researcher living in London. He holds an MPhil in Political Theory from the University of Oxford and writes on imperialism and 20th century anti-colonial struggles.