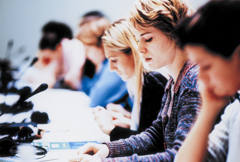 Could you be an interpreter?  
Would you like to help people understand each other?
Do you enjoy communicating with people from a wide range of backgrounds?
Can you think on your feet and pick up new information quickly?
Would you like to work in an environment where different cultures, languages and ideas meet?
If you do, and you know one or more foreign languages, then you could become an interpreter. The profession can be demanding and highly competitive, but also extremely rewarding. Interpreters are also highly valued by employers and in great demand in a number of industries.
Our interpreting taster sessions have been designed to introduce you to the different types of interpreting and their techniques. You will have a chance to try out some of the interpreting equipment used and get advice and information from professional conference interpreters that work in the field and teach on Westminster's MA Conference Interpreting Techniques.
Our first session, on Friday 5 March is open to all year 10-13 students, whilst the session on Saturday 13 March is open to all undergraduates and anyone else who might be interested to attend.
How to book your place
To book your free place please email, Marita Thomsen [email protected]
Due to the limited number of places available for each session, we are only able to accept email bookings.