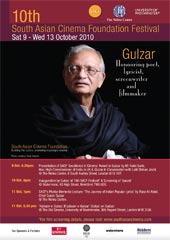 The India Media Centre of the University of Westminster, in association with Sanniddhya and the South Asian Cinema Foundation, will host an evening of poetry and conversation with poet, filmmaker, screenwriter and lyricist Gulzar on Monday 11 October.
A cultural phenomenon who commands respect from intellectuals as well as film-goers across class and generations, Gulzar was recently introduced to the west as the recipient of the 2008 Oscar for his lyrics for song "Jai Ho" in the film Slumdog Millionaire. He began his career as a lyricist in Bimal Roy's 1963 film, Bandini. He has since written lyrics for some of Hindi cinema's most enduring classics, injected new life into the arthouse film movement, and won all the major Indian film awards, including three National Awards (given out by the Government of India) and 14 Filmfare Awards. In 2004, Gulzar was awarded the Padma Bhushan, the third highest civilian award in India, for his contribution to the arts.
Rosie Thomas of the India Media Centre will chair a discussion about Hindi film lyrics between Gulzar and film historian Lalit Mohan Joshi in the university's Old Cinema.
The evening will also introduce Gulzar's most recent collection of poetry, from which the poet will recite a number of poems.