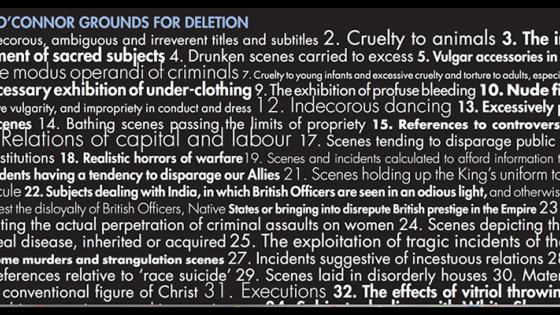 Detail from poster produced for University of Westminster/BBFC Classified Exhibition, showing the grounds for removing scenes from films, 1917. Find out more about the BBFC Classified Exhibition.
About this event
The first screening in our Film Matters Series 2019-20 is the documentary Dear Censor. 
This short documentary provides an excellent insight into the workings of the British Board of Film Classification. Originally produced for BBC4's Timeshift it lift(s) the lid on the world of cinema censorship, this programme has unique access to the files of the British Board of Film Classification. Featuring explicit and detailed exchanges between the censor and film-makers, 'Dear Censor' casts a wry eye over some of the most infamous cases in the history of the board.'
Attendees will also have a chance to vote for a future screening in the Film Matters series. 
Popcorn will be provided.
This event is for University of Westminster staff and students only.
Location
Room LTS 2.01
University of Westminster
4-12 Little Titchfield Street
London
W1W 7BY