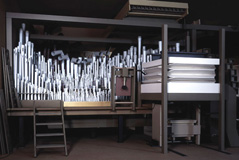 Thomas Demand HELDENORGEL, 2009
Award Announcement: Tuesday 26 April 2011
Admission Free
Open Daily 11am — 6pm
Late night Thursdays until 8pm
Thomas Demand, Roe Ethridge, Jim Goldberg and Elad Lassry have been nominated for the Deutsche Börse Photography Prize 2011. This year's selection, the fifteenth year of the Prize and the 40th anniversary of The Photographers' Gallery, illustrates the diversity of the photographic medium, ranging from conceptual to social documentary photography.
The Deutsche Börse Photography Prize 2011 is presented by The Photographers' Gallery, London at Ambika P3, University of Westminster.
The annual award of £30,000 rewards a living photographer of any nationality, who has made the most significant contribution, in exhibition or publication format, to the medium of photography in Europe between 1 October 2009 and 30 September 2010. The winner will be announced at a special ceremony at Ambika P3 on 26 April 2011.
Thomas Demand (b. 1964, Germany) has been nominated for his exhibition Nationalgalerie at Neue Nationalgalerie, Berlin, Germany (18 September 2009 – 17 January 2010), travelling to Boijmans van Beuningen, Rotterdam, Netherlands (29 May – 22 August 2010). In this exhibition, Demand's concise yet strangely unsettling images explore German social and political public life. Often using photographs drawn from the media, Demand turns these scenes into life-size and meticulously constructed three-dimensional paper models, that he then photographs. Ranging from the interior of the Bonn parliament of the late 1960s to the artist's childhood room, the spaces subtly reveal the mechanisms of their making and challenge the viewer's perception of reality by examining memory and photographic truth.
Roe Ethridge (b. 1969, USA) has been nominated for his solo exhibition at Les Rencontres d'Arles 2010, France (3 July – 19 September 2010). Blurring the boundaries of the commercial with the editorial, and the mundane with the highbrow, Ethridge's conceptual approach to photography is a playful attack on the traditions and conventions of the medium itself. Often borrowing 'outtakes' from his own commercial work, Ethridge readily counterpoises a catwalk shot with a still-life of a pumpkin or a pastoral scene of cows grazing. His distinct but elusive and poetic groupings of portraits, landscapes and still lifes create new associations and embrace the arbitrariness of the image and image making.
Jim Goldberg (b. 1953, USA) has been nominated for his exhibition Open See at The Photographers' Gallery, London (16 October 2009 – 31 January 2010). Initiated through a Magnum commission, Open See documents the experiences of refugee, immigrant and trafficked populations who travel from war torn, socially and economically devastated countries to make new lives in Europe. Fusing Polaroids, video, written text, ephemera and large and medium format photographs (taken in places as varied as Iraq, Bangladesh, China, The Balkans and Congo), Goldberg uses his varied and experimental approach to photographic storytelling to reflect on issues of migration and the conditions for desiring escape.
Elad Lassry (b. 1977, Israel) has been nominated for his exhibition Elad Lassry at Kunsthalle Zürich, Switzerland (13 February – 25 April 2010). In his seductive yet detached photographic and filmic works, Lassry renders the over-familiar and clichéd, whether it be a kitten, an attractive model, lipsticks, a carton of eggs, peculiar. Drawing on analogue source material as inspiration, such as advertising and stock imagery, Lassry's over-saturated photographs are often collages of pre-existing images or newly staged studio photographs alluding to the visual language of product photography. Constantly shifting between 'original' and found materials, Lassry instigates a dialogue between photography and the moving image to explore ideas of authorship, originality and appropriation.
Conference: Exhibiting Photography
This three-day conference addresses issues central to the curation and display of photography; the relationship between galleries, contemporary art and documentary practices; the notion of influence on photographic thought and practice; and the on-going obsession with photographic specificity in the art world.
Speakers include Victor Burgin, John Stezaker, Jorge Ribalta, Hannah Collins Marysia Lewandowska, Rut Blees Luxemburg and Simon Baker.
Organised by the Centre for Research and Education in Arts and Media (CREAM) and the Photography Research Group (i-PACT) at the University of Westminster.
8 — 10 April 2011
£200/ £90 students for three days £110/ £65 students for one day
Booking: [email protected]
Location: Hogg Lecture Theatre, University of Westminster, 35 Marylebone Road, NW1 5LS
A catalogue to accompany the Deutsche Börse Photography Prize 2011 exhibition will be published with specially commissioned essays on each of the four shortlisted artists. It will be available to purchase from The Photographers' Gallery Bookshop both online and at the Ambika P3 space.
For further information Call: Sam Trenerry +44 (0)20 7087 9333 or Email: [email protected]