The Third World in Theory reading group (TWT) resumes its engagement with theoretical orientations towards the Third World within academia.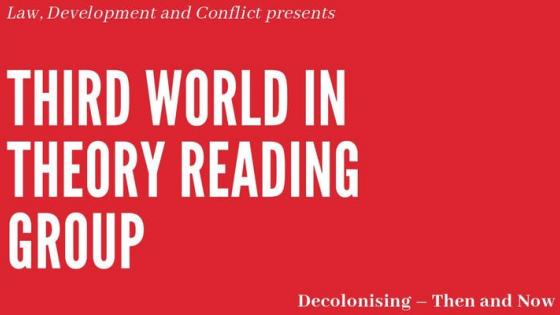 For the 2019-20 academic year, TWT will be discussing the topic 'Decolonising – Then and Now'.
The Third World in Theory reading group is open to all. The group meets once every three weeks on Thursdays from 6pm – 8:30pm.
For more information, see the Law, Development and Conflict research group's website or join the Third World in Theory Reading Group.
Location
To be confirmed.
Recommended reading
Abdullah Öcalan (2017). "The political thought of Abdullah Öcalan: Kurdistan, women's revolution and democratic confederalism." Translated by Havin Guneser, London Pluto Press. Cengiz Gunes
Cengiz will lead the discussion on Abdullah Öcalan's political though. A profound and necessary reading bringing the Kurdish struggle to the academic discussion.
Cengiz Gunes currently an Associate Lecturer and an Honorary Research Associate in Politics at the Open University, UK. His main research interests are in the areas of autonomy and the accommodation of minorities, peace and conflict studies, the Kurds in the Middle East, the international relations of the Middle East and Turkish politics.