The Compton Club Premiere Series
To mark the 40th anniversary of Bronco Bullfrog being premiered at the Old Cinema in October 1970, the Centre for the Study of Law, Society and Popular Culture is delighted to announce this screening of this 'British classic' (The Guardian) and 'a fascinating timepiece' (The Telegraph).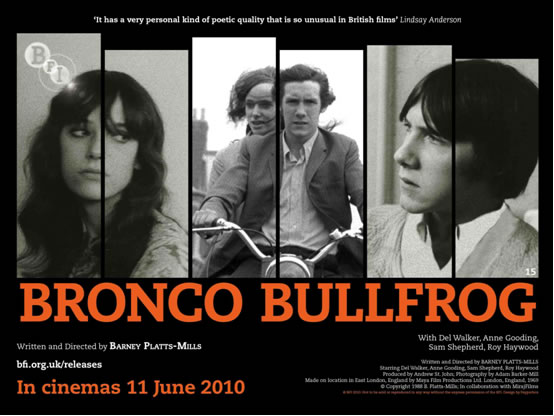 All welcome. No need to book, just turn up.
Background information
The Old Cinema at the University of Westminster has an important place in film history.
Perhaps most famously the first presentation of the cinematograph by the Lumiere Brothers took place there on 20 February 1896. Preceding this, whilst still called the Royal Polytechnic Institution, it was world renowned for its pioneering 'Magic Lantern' shows and still maintains links with the Magic Lantern Society. 
Outside of this the Old Cinema, known at various times as the Cameo-Poly and Cameo News Theatre, was also linked to a private members club known as The Compton Cinema Club, run by Tony Tenser and Michael Klinger. Interestingly, John Trevelyan, Secretary of the British Board of Film Classification (BBFC) between 1958 and 1971, was allegedly a founding member.
A number of notable UK and world premieres have been held at the Cinema including La Vie Commence Demain and the lost mod classic Bronco Bullfrog. 
For more information on the Old Cinema see the "Rebirth of Cinema"