As part of the London Festival of Architecture and London 2012 Festival, the British Council presents architecture and design from the Caribbean, Namibia, Serbia, South Africa and Taiwan: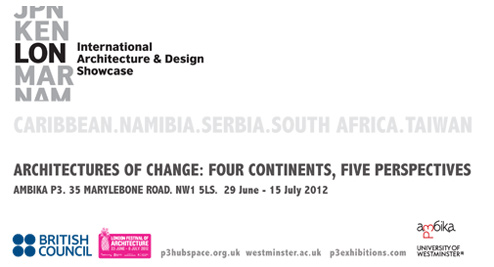 Free access to the exhibition.
Please note the exhibition is open 11am to 5pm on Sundays.
Talks and discussions
The Exhibition is accompanied by an international talks and debates programme, presented by the University of Westminster and the British Council. Held in Ambika P3, Marylebone Road, NW1 5LS.
For more information visit the P3 website
Design Diplomacy - mediating relations through design and architecture
Events are free and open to the public.
For more info email: [email protected]
Monday 2 July 2012
6 – 8pm
Designing for Diplomats: Embassies and Consulates
Chaired by Peter Murray, NLA
Embassies, consulates and high-commissions provide fascinating examples of how architecture and design mediate relations between individuals, organisations and countries. Three leading architects and a former representative of the Foreign Office discuss the diplomacy of designing for the British Government overseas.
Terry Farrell
Tony Fretton
TBC.
Thursday 5 July 2012
2 – 4.30pm

Expanded Territories colloquium

Chaired by Prof. Kate Heron & Prof. Lindsay Bremnar, University of Westminster



The University of Westminster and the British Council invite architects, designers, researchers and teachers to engage in a dialogue between participants of the Ambika P3 International Architecture and Design Showcase around questions of architecture's role in (de)colonisation, social (re)construction, national identity formation, human development and global (dis)integration in their countries.



A half-day colloquium with representatives from:

The Caribbean

Namibia

Serbia

South Africa

Taiwan

Friday 6 July 2012
6-8pm
Namibia and South Africa: Post Colonial Legacies

Chaired by Prof. Lindsay Bremner, University of Westminster



The University of Westminster and the British Council invite discussion about the impact of design (urban, architectural, industrial, fashion & graphic) on life in cities in Namibia and South Africa since democracy. Questions asked will include those of overcoming colonial spatial legacies, of the re-colonisation of cities by global economic forces, of the simultaneity of different experiences of space and time, and of the impact of mega events on host cities. 



with



Dr. Marion Wallace - British Library

Dr. Diana Mitlin, University of Manchester

Zahira Asmal, Design South Africa

Phillip Luhl, Namibia Polytechnic

Tuesday 10 July 2012
6-8pm

Designing relations - east/west dialogues

Chaired by Filip Visnjic, University of Westminster



Technology provides opportunities to engage in formulating new dialogues between people, place, structures and material - is this a new way of thinking about design - the 'curation' or 'invention' of relations? Does design present an opportunity to mediate these relations through forms of diplomatic engagement? A panel of architects and thinkers from Serbia discuss these topics in the context of a changing nation.

Thursday 12 July 2012
6-8pm

Addressing the Games

Chaired by Prof. Adam Sharr, Newcastle University [TBC]

The Olympics are here - and with them a changing cityscape for London. What are some of the implications of this 'mega-event' and how has London, the perennial 'village city' made the games in its own, unique image? A panel of academics, architects and students present dialogues and designs of an alternate nature for the event of the summer.



with



Dr. Albena Yaneva, Manchester University

Dr. Nancy Stevenson, University of Westminster

Gabby Shawcross, Studio of Cinematic Architecture

Anthony Boulanger, AY Architects + University of Westminster

Chloe Leen, Theodore Molloy, Steve Wilki, University of Westminster