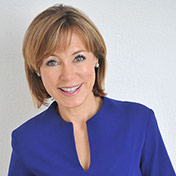 Sian Williams (Psychology)
Job Title: Broadcaster and journalist
Organisation: BBC (former BBC Breakfast presenter)
Reporting from warzones and disaster areas used to be part of the day job for broadcaster and journalist, Sian Williams; who covered events such as the aftermath of the devastating 2004 South Asia Tsunami. But as Sian knows, being surrounded by death, grief and conflict can have haunting consequences for the journalists involved.
Drawing upon her own experiences, Sian looks at how we might protect our journalists from the trauma they encounter on the job, and explains why she feels this is so important.
Speaker biography: Sian has been a broadcast journalist for almost 30 years, and is particularly known for her role as a BBC Breakfast presenter between 2001 and 2012.  Over the course of her career, Sian has reported on a range of significant events, such as the Hillsborough Disaster, the 2004 South Asia Tsunami and the Paddington rail crash. She is also a trained Trauma Assessor, helping journalists who have returned from traumatic news events. She recently completed her MSc in Psychology at the University of Westminster, focusing on Post Traumatic Stress.