The Communist Party of Great Britain (CPGB) was influential within some  of the construction trade unions during the post-war decades. The main  objectives of party activists were: to strengthen union organisation on  sites; campaign for higher pay and better working conditions; and build  opposition to what they saw as the weak and ineffectual leaderships of  the main construction unions. The CPGB building workers had regular  advisory meetings to discuss the situation on local sites. They were  also the dominant force in the London Joint Sites Committee (LJSC), set  up in the mid-1960s and which developed strongly as a result of the  major disputes on the Barbican sites and Horseferry Road. The LJSC  leadership and around half of its most active members were reckoned to  be Party members and it went on to play a leading role in the formation  of the Building Workers' Charter movement, which would later be central  to the organisation of the national building workers strike in 1972.
In this clip, Vic Heath reflects on some of the CPGB's activities within the construction industry during that era.
In  addition to some district and regional union officers who were members  of the CPGB, the importance of the Party during the post-war decades can  also be seen by the number of senior union officials, including  national leaders, who had been CPGB members earlier in their careers.  The political views and affiliations of those officials who reached the  highest office may have changed by the time they became leaders, but  many owed their start and advancement through the union structures to  this early involvement in the CPGB. During the 1970s, many of those  communists who had been crucial to the building of both the LJSC and  Building Workers Charter would also seek election to union positions, in  some cases successfully.
Communist activists were an influence on some of the sites we examined, particularly the Barbican and Stevenage.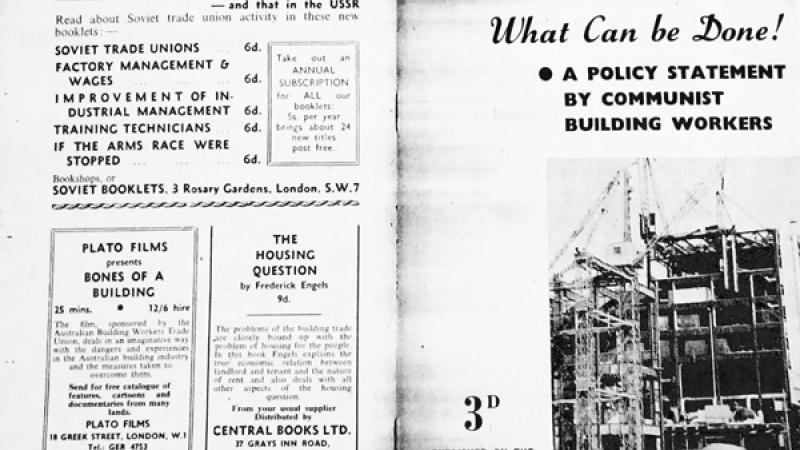 CPGB pamphlet cover.