Among the most significant changes during the post-war decades was the  use of new construction materials and technologies. The rise of concrete  as a building material was central to this. Concrete was not new, but  it was only in the post-war decades that it emerged as a ubiquitous  feature of the built environment in Britain. It was used widely during  these decades in all branches of construction, from power stations and  motorways, to factories and hospitals, and housing estates all over the  country. Industrialised building was also a characteristic of the period  and took many different forms, ranging from the pre-fabrication of  building components in custom-built factories, which were later  assembled on site, to the particular type of in-situ systems building  processes that were in evidence in new towns such as Stevenage. The  major technological changes in the construction industry included the  development of newer and far more powerful plant machinery. Tower cranes  and other types of lifting machinery, mechanical excavators, shovels  and diggers, all became common features on construction sites.
In this clip, Barry Crisp speaks about the work he did building shutters on the M1 motorway.
These new technologies and machinery created new possibilities and  allowed for innovative approaches to the task of re-building Britain  during the post-war decades. They also impacted on the workers and  altered the nature of the division of labour. New occupations associated  with concreting, such as concrete finishing, steel-fixing and formwork  carpentry began to emerge. Crane erectors, crane operators, and a wide  variety of machine drivers and plant operators also became key workers  in the industry. The introduction of new materials, for example metal  partitioning, cut across established occupations and resulted in  demarcation disputes. Overall, the changes in technologies and materials  would have a deep impact in many different areas of the construction  industry, from training to industrial relations and trade union structures.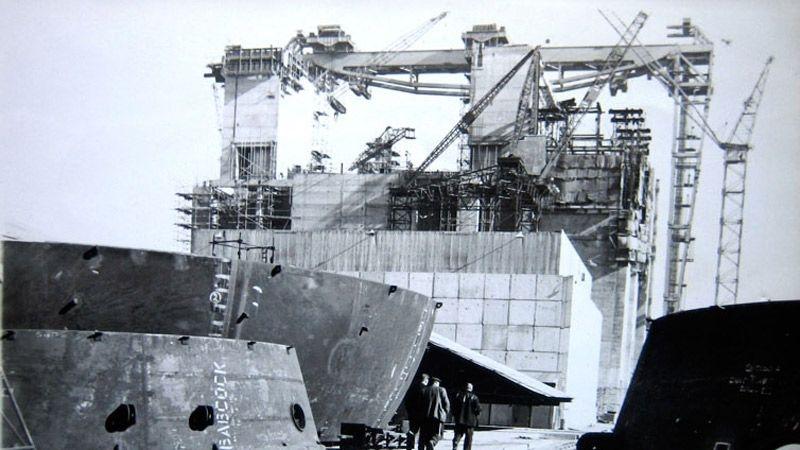 The Goliath crane on Sizewell A power station.