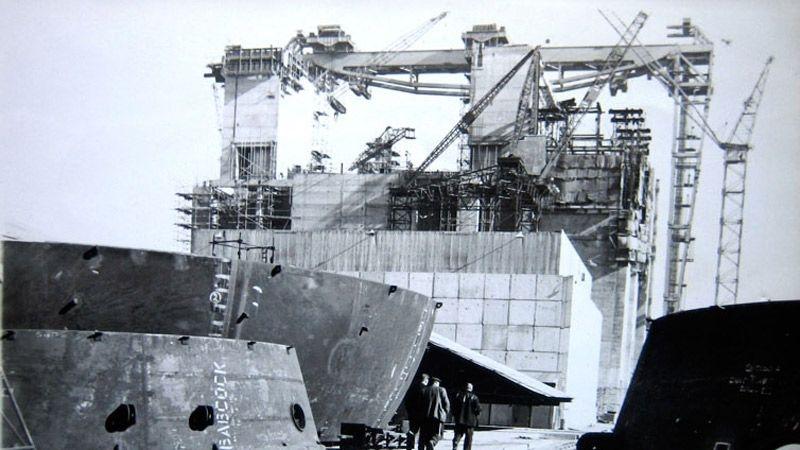 When Sizewell A first generated electricity in 1966, it was hailed as potentially the most powerful nuclear power station in the world. The construction of the station, which was spread out over twenty-four acres, was a vast undertaking, lasting five years and combining both conventional and new approaches to civil engineering and those specific to the demands of nuclear power engineering. The consortium that built Sizewell A reflected this and comprised Taylor Woodrow Construction, a company with significant experience in building and civil engineering, along with two notable heavy engineering firms: Babcock & Wilcox and English Electric.
The construction of Sizewell A involved the deployment of some of the newest technology available to the industry and innovative construction techniques, including underwater construction methods, as well as the establishment of clean working conditions for the building of the reactors.
At its peak, there were over 2,000 workers employed on the construction of Sizewell A power station. This included different types of machine operators, fitters, carpenters, concrete gangs, electricians, welders, platers, scaffolders and many other categories of operative. It was work that was hard and at times dangerous and hazardous, often requiring great skill and precision. It was also work that provoked considerable public interest: the 1961 August bank holiday, for example, drew a crowd of 3,000 visitors to an observation platform that had been specially built to allow members of the public watch the construction process.
The men who built Sizewell A worked in compressed air in underwater tunnels, at great heights, in the freezing cold mud and in the extreme heat. Some were locals, working on their first construction job, while others were from far-flung parts of Britain and Ireland and experienced in various aspects of engineering construction. Many of the men lived in camp accommodation for the duration of the job and saw little of their families. Together, they helped bring to life one of the biggest and – at a final cost of £62 million – most expensive construction projects of the 1960s.
Find out more:
Sizewell A images
Find more images and details about them below:
Welding work on the boilers (© Charlie Dennis)
Boiler under construction (© Charlie Dennis)
Group of workers on site in early 1960s (Courtesy of Patrick O'Kane (centre))
Reactor cap is lifted into position (© Charlie Dennis)
Goliath crane towering over site huts (© Charlie Dennis)