* Price per academic year
Course summary
This course will provide you with an exciting and unique learning experience, delivered by active researchers who are passionate and knowledgeable about their subject. A number of our staff have won prestigious awards for their teaching, and we believe strongly in maintaining close links between our research and teaching, which means that you will be taught by recognised international experts. We are committed to understanding the place of psychology in contemporary society, and our course content is constantly updated to provide a fresh perspective into the human mind.
The course is designed to enhance your chances of successfully gaining employment once you graduate, and many of our past students have pursued careers in clinical, counselling, forensic or occupational psychology. Others have used their degree in related professions, including human resources, management, market research, public relations and social work.
Course content
The course is structured to provide a strong psychology base from the start of your studies. What you study has been designed to meet the requirements for the Graduate Basis for Chartered Membership (GBC) of the British Psychological Society, preparing you for postgraduate training on the path to becoming a Chartered Psychologist.
Teaching methods include lectures, seminars, practical classes and laboratory work, supported by online material and periods of independent study.
Assessment methods may include exams, in-class tests, essays, oral and poster presentations, debates, case studies, and laboratory, practical and technical reports. 
The course content is listed by year, corresponding to the full-time mode of study. If you study part-time you will study the same content, spread over four years.
Course structure
The following modules are indicative of what you will study on this course.
Subjects of study include:
Biological Psychology
Cognitive Psychology
Developmental Psychology
Introduction to Psychological Research Methods
Social Psychology
Credit Level 4
Subjects of study include:
Brain, Mind and Behaviour
Data Analysis for Psychology
Individual Differences
Music and the Mind
Psychological Research at Westminster
Self and Society: Applications from Social and Developmental Psychology
Work Experience in a Psychological Setting
Credit Level 5
Work placement year
Many of our students take up the opportunity to have an additional work placement year between Years 2 and 3, experiencing work under supervision in a psychological setting and gaining a Certificate in Work-Based Learning in Psychology. Students have secured placements in a range of settings including advertising agencies, drug rehabilitation units, prisons, psychiatric clinics and schools for children with special needs.
Subjects of study include:
Clinical Psychology
Cognitive Disorders
Forensic Psychology
Health Psychology
Occupational and Work Psychology
Project in Psychology
Psychology of Counselling and Psychotherapy
Psychology of Education
Understanding Psychological Diversity
Credit Level 6
Westminster Plus Electives

As part of your course you may be able to take elective modules. Electives are an exciting opportunity to widen your experience at university and to gain skills and knowledge that will help make you more employable.
Find out about Westminster Plus Electives.
Course Leader Alan Porter
Senior Lecturer
Alan researches the historical and philosophical background of current theoretical and methodological disputes and controversies in the social/behavioural sciences. He is interested in how the diverse set of theories, methods and practices that go by the name of psychology impact on everyday life.
Learning about the psychology of human beings and other animals is endlessly fascinating and teaches us to think critically about ourselves.
Typical offer for September 2016
A Levels – BBB
International Baccalaureate – 32 points
Edexcel BTEC Level 3 Extended Diploma – DDM
Access to HE Diploma – Pass with 45 credits at Level 3 with a minimum of 36 Level 3 credits at Merit or Distinction plus Maths and English GCSEs at at least grade C.
More Information
Typical offer for September 2016
International Baccalaureate – 32 points
More information
International Foundation course
We work in partnership with Kaplan International College London to provide Foundation courses for international students who do not meet our Bachelor's degree entry requirements.
The Psychology BSc Honours course is accredited by the professional body that oversees psychology in the United Kingdom, British Psychological Society (BPS). Providing a student meets the minimum standard of a lower 2nd class honours level he or she is eligible for Graduate Basis for Chartered (GBC) membership of the BPS. GBC is the first stage necessary for becoming a chartered practitioner in the areas of Clinical Psychology Counselling Psychology, Forensic Psychology, Educational Psychology, Health Psychology,
Occupational Psychology and Sport and Exercise Psychology. As well as pursuing careers as Chartered Psychologists our graduates go on to pursue academic research and to careers in teaching, health and social care, human resources, advertising, marketing and business.
Our Career Development Centre has just been shortlisted for the Best University Careers Service in the National Undergraduate Employability Awards for 2017.
With a growing network of over 3,000 employers around the world and a team of experienced careers consultants, we are here to help you succeed.
In 2015–16, we helped over 1,500 students find work placements across a range of sectors, with 250 employers attending 14 on-campus skills and careers fairs.
As a Westminster student, you'll have access to our services throughout your studies and after you graduate.
We can help you:
find work placements related to your course
find part-time/vacation, placement and graduate jobs, including voluntary experience
find international opportunities to enhance your employability
market yourself effectively to employers
write better CVs and application forms
develop your interview and enterprise skills
plan your career with our careers consultants
meet employers and explore your career options at our employer fairs, careers presentations and networking events throughout the year
Find out more about the Career Development Centre.
UK and EU tuition fee: £9,250 (Price per academic year)
The amount you will pay may increase each year to take into account the effects of inflation.
Find out how we set our tuition fees.
Funding
As well as tuition fee loans, there is a range of funding available to help you fund your studies.
Find out about undergraduate student funding options.
Scholarships
The University is dedicated to supporting ambitious and outstanding students and we offer a variety of scholarships to eligible undergraduate students, which cover all or part of your tuition fees.
Find out if you qualify for one of our scholarships.
International tuition fee: £12,500 (Price per academic year)
The amount you will pay may increase each year to take into account the effects of inflation.
Find out how we set our tuition fees.
International student funding
Find out about funding for international students.
Scholarships
The University is dedicated to supporting ambitious and outstanding students and we offer a variety of scholarships to eligible undergraduate students, which cover all or part of your tuition fees.
Find out if you qualify for one of our scholarships.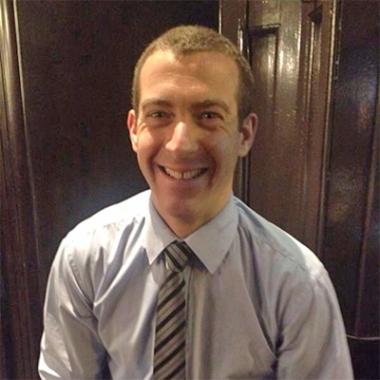 Sam Parker
Psychology BSc Honours
I chose a psychology degree at Westminster due to the large choice of option modules throughout the course. The support from the course and tutors was excellent and provided me with the foundation to succeed to my potential.
Nazanin Tayeby
Psychology BSc Honours, Assistant Psychologist Broadmoor Hospital
Reflecting back on my time at Westminster (2013 Graduate) as a psychology student, I am now able to acknowledge how helpful the course was in preparing me for the outside world. 
Eren Behget
Psychology BSc Honours, Project Support Officer at NHS London Leadership Academy
Studying Psychology at the University of Westminster was one of the best decisions that I have made. Lecturers were supportive, engaging, and passionate, whilst the course content was diverse, relevant, and interesting.
Find out more
Watch our video to find out more about studying Psychology courses with us.
Course Location
Our Cavendish Campus in the heart of London is home to the Faculty of Science and Technology. With first-class facilities, the campus houses subject areas ranging from biosciences to electronic engineering. For more details, visit our Cavendish Campus page.
Contact us
Call our dedicated team on:
+44 (0)20 7915 5511
Opening hours (GMT): 9am-5pm Monday to Friday
Your Westminster
Book an open day. Order a prospectus. Sign up for newsletters.