The Westminster Big Idea competition concluded on Tuesday 26 March at the Regent Street Campus, with an exciting final with guest speakers, live pitches and the audience voting for Westminster's Big Idea Grand Prize winner.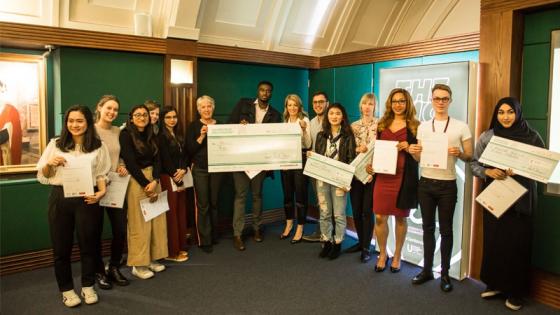 Announced by University Governor Helen Owen, Malvin Onu, a student from the MSc Accounting and Finance course and founder of the social enterprise Business Idea 'RunTrack', was selected as the Grand Prize Winner of this year's competition. Malvin received a total of £3,000 funding to help him develop and launch 'RunTrack', a grass roots social enterprise online platform that aims to connect community sports activity providers with young people, driven by a mission to address causes of increasing violence and crime amongst young people.
The final award ceremony was preceded by 12 semi-finalists pitching their business ideas in front of a panel of renowned judges including Holly Knower, CEO of NACUE; Stuart Hartley, Director of Incrementa Consulting and Kevin Bardwell, Relationship Manager of Santander Universities UK. The judges selected the five finalists that went on to pitch in the main final event.
Alongside Grand Prize Winner Malvin Onu, the four other finalists who pitched their business ideas live in-front of a voting audience were Xiaoyo Shu 'Fashion Travel Agency'; Julio Marmol Corbacho 'Wisdom'; Nishat Hussain 'Arabic Notebook Companion' and Laura Anderson 'Collabosaur'.
The evening also included the awarding of Taylor Semelsberger with the honorary Accelerator Idea Award of £2,500 after her winning the London Venture Crawl 2019 Pitch competition.
The award ceremony was hosted by Westminster alumna, now News and Sports Broadcaster and Media Entrepreneur, Kait Borsay. Keynote speakers from the business industry, including Deborah Okenla, Founder and CEO of YSYS (Your Startup, Your Story) and Westminster alumnus Raj Sharma, now renowned entrepreneur and founder of many successful and innovative startups, also shared their stories and perspectives on how they support emerging entrepreneurs.
The evening ended with networking drinks and buffet service, offering an opportunity to meet and speak with student and alumni entrepreneurs, sponsors, local entrepreneurs and industry guests.
Speaking about the successful event, Shiela Birungi, Manager at the Creative Enterprise Centre and Co-organiser of Westminster's Big Idea Competition, said: "We are so happy to see the impact that the competition has made in its first year. We launched the Westminster Big Idea Competition to drive and build a culture of inclusive entrepreneurship amongst students, graduates and alumni but most importantly to showcase the incredible entrepreneurial potential and ideas our students possess. The range of ideas entered throughout the competition has been brilliant and we look forward to running the competition again in the next academic year!"
The Westminster Big Idea Competition is a University-wide student business idea competition sponsored by Santander Universities UK.
Applications opened in December, students were required to submit a 60 second video pitch describing how their idea was unique, addressed a problem or opportunity and made an impact across four entry categories: Digital/Tech, Maker/Inventor, Freelance and Impact.
Find out more information about Westminster's Big Idea Competition.