On 28 February, a small group of students were introduced to the fragments of LGTBQ+ history that can be found in the University of Westminster Archive, which collects, preserves, and provides access to records created by staff and students of the University and its predecessors.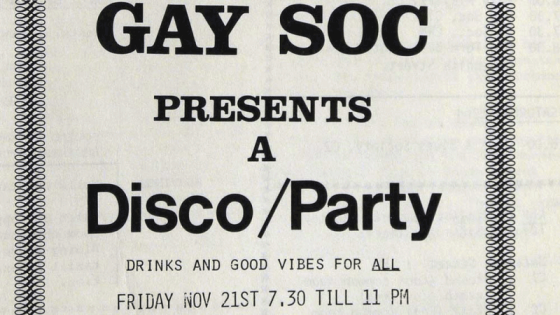 During the event, participants looked at copies of the former student newspaper McGarel and reflected on how they advertised the 'Gay Soc'. They also had the opportunity to read articles in which AIDS was discussed in a straightforward fashion and in which all the myths around its transmission were refuted.
The event was led by Archivist Anna McNally from the University Archives and co-directors of the Queer London Research Forum, Dr Kate M. Graham, Senior Lecturer in English Literature, and Dr Simon Avery, Reader in Nineteenth-Century Literature and Culture.
It also included a reading of letters between a Social Sciences student and the then course leader, Alan Sturt, debating how inclusive the curriculum was, and a short talk on homoerotic encounters that have taken place in the old swimming pool.
The Forum aims to facilitate interdisciplinary discussion on various aspects of queer London, from the nineteenth century to the present. It seeks to encourage dialogue and debate about the range of London's queer lives and experiences by bringing together academics, practitioners, students and those with a general interest in queer issues.
Talking about the event, Dr Kate M. Graham said: "It was a great opportunity to share with students the queer history of our own institution and it was a brilliant experience to see how politically engaged and active past Westminster LGBTQ+ students were."
The University of Westminster constantly endeavours to respect and value diversity within its communities of staff, students and alumni, to promote equality of opportunity, and to challenge and strive to eliminate unlawful discrimination.
Find out more about the Queer London Research Forum based at the University of Westminster.