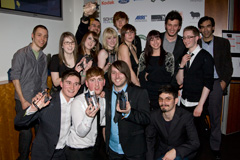 For the second year running, Westminster students won the top prize at the Kodak/British Television Advertising Association (BTAA) Student Commercials Awards earlier this month.
The awards audience also saw the University's students take the third place award, as well as scooping those for 'best script' and 'best post-production' at the event, held at the British Academy of Film and Television Arts.
BA Film and Television course leader Peter Hort said: "This is the second year in a row that we've won what is probably the most prestigious student film award in the country. This is a fantastic tribute to the ability of our students and staff."
Top prize went to the Westminster film Smoking Law (view the film), made by a third year team comprising Aimee White (producer), Ben Simpson (director) and Cenay Said (cinematographer). The film also won the 'best in brief' and 'most innovative commercial' awards, while the film's editor, James Rowney, picked up the award for 'best post-production'.
Third place overall went to another Westminster commercial, made to promote Robinson's Be Natural fruit squash (view the film). Produced by Mist Kinsman, directed by Ben Wheatley and written by John Wilkinson, the commercial also picked up an award for best script.
Smoking Law aims to tackle the problem of underage smoking by taking the form of a shocking news report about a 'new law' compelling schoolchildren to smoke, thus 'solving the problem of old age by killing them young'. The 45-second commercial was made for the Deborah Hutton Campaign. It won its student team £6,000 in prizes and was shown at the main BTAA awards ceremony. The Be Natural commercial secured prizes totalling £2,250. (students from both commercials are pictured above right)
Meanwhile, Westminster's film students also picked up a number of other awards last month and at the end of last year.
In February, Tears of the Son won a Royal Television Society Award for Best Undergraduate Drama. Directed by Dean Threadgold, produced by Emma Schofield and written by Tom Coldrick, it was described by the judges as "a heart-warming comedy confronting terminal illness and death. It had a strong script, some genuinely funny lines, and tackled a difficult subject".
The same month saw Foxes in the Underground, set in a 1980s' TV newsroom and featuring Jonathan Hyde, who appeared in Titanic, win 'best comedy' and 'best script' at the Screentest National Student Film Awards. It was directed by Dan Nickson, produced by Jo Michael and written by Alan Forbes.
And at the end of last year, another third year student drama, Prick, picked up the award for best film at the Exposures Festival and also won the London Young Film Festival for film makers under the age of 26.