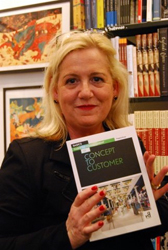 The publication was officially launched at the world's leading museum of art and design, the Victoria & Albert Museum on Wednesday 4th April. When asked about the evening Virginia said: "I was thrilled by the turnout at the book launch at the V&A - really exciting and pleased to see so many colleagues and fashion industry guests present."
Originally trained as a fashion designer, Virginia has a background of over 25 years in the fashion industry.  She teaches both BA and MA fashion business management students in marketing and supply chain related topics and is still involved in the fashion industry, working on consultancy projects with several fashion brands.
The book is the first in a new AVA series of Basics Fashion Management titles and has already been taken up as the key text in two UK universities for their undergraduate fashion courses. Plans are also underway to publish an International version (in several languages including  Mandarin) as well as an E –Book in the near future.
Copies of Concept to Customer are now available from: