In the lecture entitled Advancing Women in the Corporate World: A View from Across the Pond, President Larson provided students, alumni, academics and the public with an insight into her own career path. Prior to joining Bentley University in July 2007, President Larson has had an impressive career as an attorney, public policy expert and business leader.
A key point of the lecture was discussing the current state of women in the corporate world. In 2011, President Larson launched the Center for Women and Business at Bentley University with a mission to advance shared leadership among women and men in the corporate world, and to develop women business leaders.
Inspired by the talk, Dr Ruth Sacks, Business Development Director and Principal Lecturer in Westminster Business School, considered the opportunities and challenges for women to have a career, a board role and a life in a blog post published on HR Bullets.
"Our economy is only at its best when every individual has an equal opportunity to participate. And that means helping those below you – whatever their gender – to grow and ultimately succeed in their careers," believes President Larson.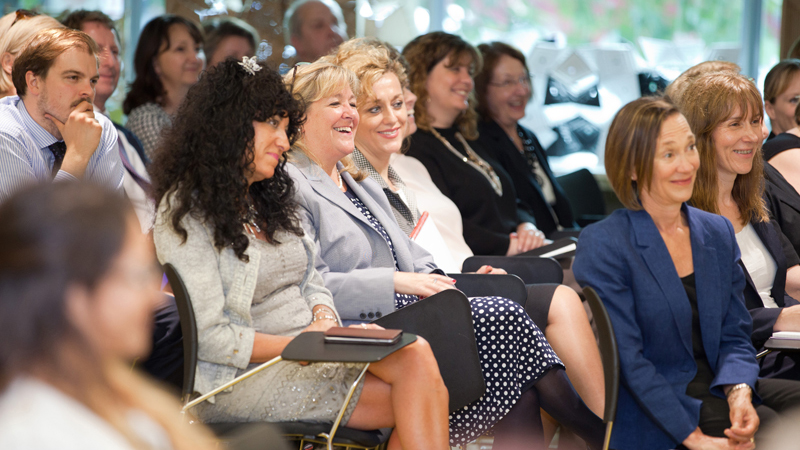 Drawing from her recent research, she also spoke about her ideas for advancing professional women, from the starting gate to corporate boards. Through looking at the widely recognised McKinsey study Centered Leadership, President Larson covered the key traits shared by women in C-suite positions, discussing proof-points for the model and sharing personal anecdotes. Sharing her views on the importance of strong mentorship in the workplace President Larson has previously explained:
"As an attorney who has worked in public policy, government, finance, and now as president of a university – all fields dominated by men – I have faced my fair share of workplace challenges. But along the way, I wouldn't have gained the confidence to achieve success without a strong mentor in my corner."
President Larson is also well known for her significant corporate leadership and civic involvement. Recent honours include the Boston Business Journal's Power 50: Influential Bostonians, Boston Magazine's 50 Most Powerful Women in Boston and the Greater Boston Chamber of Commerce's inaugural Collaborative Leadership Award and Academy of Distinguished Bostonians Award.
Watch President Larson's talk on YouTube:
The Westminster Talks series features an outstanding and fascinating array of Honorary Doctors, alumni, professors and associates from a range of backgrounds who are proud to have a shared history with the University of Westminster. The lectures are part of the University's academic year and underpin our mission of excellence, creativity and innovation for the benefit of the wider society.