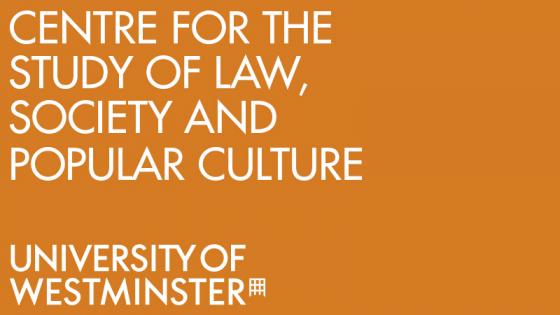 Sir Richard Arnold delivered his third annual lecture, entitled 'Issues and Developments in Entertainment Law: an intellectual property perspective'. This excellent event drew an audience of over one hundred people, and was followed by a lively and informative Q&A. We are very grateful to Sir Richard for continuing to support our work at the Centre.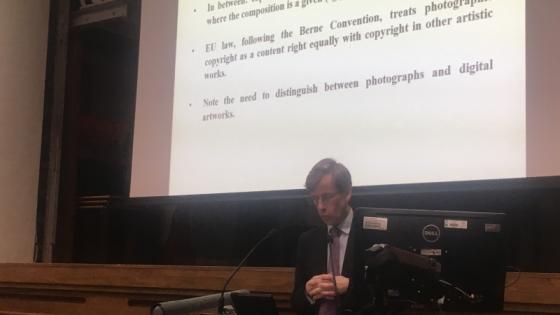 Sir Richard Arnold delivers his third annual Lecture at Westminster Law School.
LLM Entertainment Law graduate Dr Merima Bruncevic returned to the University to give a talk and launch her book, 'Law, Art and the Commons' at the Law–Art–Justice event organised by the Westminster Law and Theory Lab.
Danilo Mandic delivered a paper entitled 'Copyright and Heritage: Relation, Origin, Temporality' for the Research |Seminars Series at the Department of Social Sciences, University of Roehampton on 13 February 2019.
The Centre again had significant input into the Difference Festival. This year we were delighted to host Mike Garry, Writer in Residence at Westminster Law School who gave a superb performance entitled Radical Voices: Poetry Matters, streamed live as part of the project of Matt Morrison and Guy Osborn to 'disrupt the everyday. We also hosted  Unfinished Histories who gave a fascinating virtual tour of  Alternative Theatre in Westminster.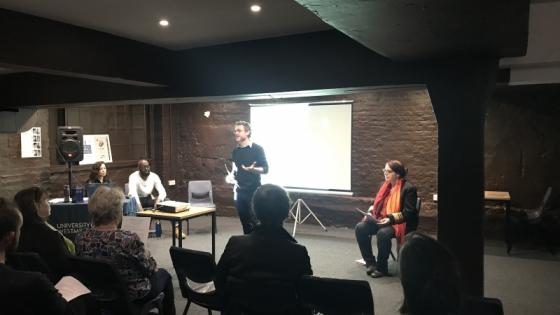 Matt Morrison introduces Susan Croft of Unfinished Histories.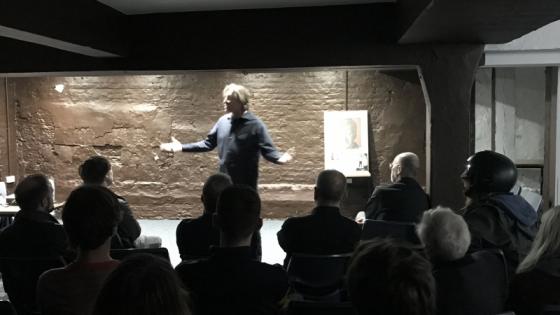 Mike Garry in action.
Danny Nicol has continued to blog on issues relating to  Doctor Who, this time asking Was Doctor Who too political? Also, he has reported back very positive news that a full complement of 16 papers has been submitted for the Centre's Symposium on Television Drama, Law and National Identity to be held on  6 September, with a great international spread and gender mix. Popular themes have included the portrayal of dystopias and the treatment of heritage and nostalgia. Of those papers with a more legal orientation, topics have included the depiction in TV drama of British judges as against French judges, the 'replacement' of Perry Mason type lawyers by women lawyers, the problems with 'transplanting' Perry Mason onto Italian TV and onto the Italian legal system, and the Canadian detective series Murdoch Mysteries' portrayal of Canadian as against American identity.