Vote for Clare Twomey in the Art and Design category.
Twomey has been shortlisted in the Art and Design category of the prestigious Hospital Club's annual h.Club 100 awards, an annual search for the most inspiring, innovative people in the UK creative industries. The awards comprises ten winners in each of ten categories ranging from Advertising, Marketing & PR to Theatre & Performance and Twomey's Art and Design category.
Twomey is known for working with clay in large installations, sculpture and site-specific works. Her works have been exhibited at the Victoria and Albert Museum, Tate, Crafts Council and the Royal Academy of Arts to name a few.
Most recently Twomey has joined Stephen Fry and fellow British artists to share the powerful stories of Holocaust survivors to mark Holocaust Memorial Day through a project entitled Memory Makers commissioned by the Holocaust Memorial Day Trust. She also reopened the York Art Gallery with 10,000 handmade slipcast ceramic bowls.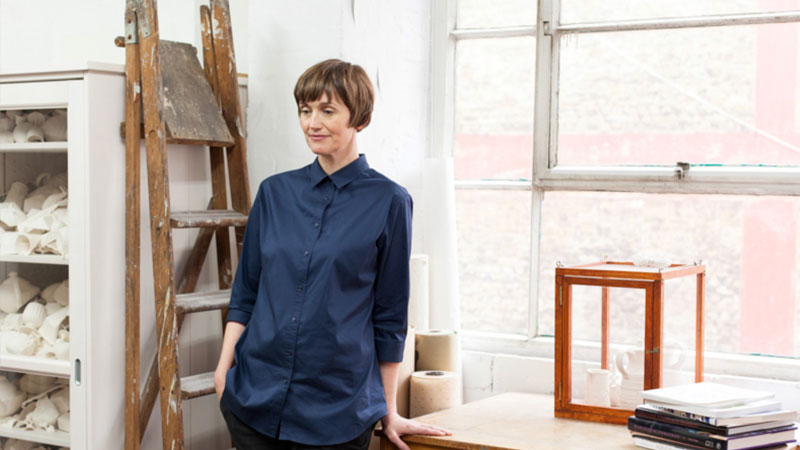 Courtesy of Trent McMinn, 2015
Speaking about being shortlisted in this year's awards, Twomey says: "It is exciting to be in this shortlist. The other artists in this list are my heroes of Art and Design, so what good company to have. Many thanks to all those who thought the work has been of such importance to warrant this accolade."
The public can vote online until 14 September in order to decide one "people's choice" winner per category. The remaining nine winners in each category will be selected by the judging panels.
The h.Club 100 is supported by organisations including Creative England, the British Council, Arts Council, BFI, and Creative Skillset.