Dr Loraine Leeson launches Lambeth Floating Marsh
8 September 2015
On the site of the historic Lambeth Marshes wildlife now struggles to survive. The central London reach of the tidal Thames offers a particularly challenging environment with its hard, vertical walls, turbulent tides, wash from river traffic, and changing composition of fresh and salt water. The removal of pollutants from the river is nevertheless encouraging the return of fish, birds and even seals. This in turn increases the need for habitat for the invertebrates and particularly the microorganisms that support the food chain.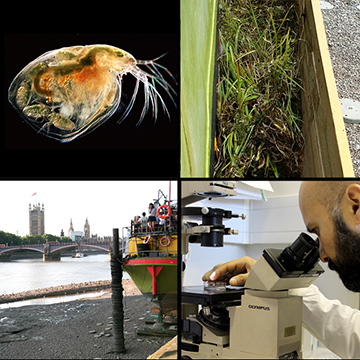 Dr Loraine Leeson, artist and Senior Research Fellow in Media, Arts and Design, has been working with biophysical chemist Dr. Nithin Rai and staff from the Faculty of Science and Technology to examine microscopic life in this part of the river and create new habitat for organisms through micro reed beds constructed along the hull of the Tamesis Dock barge. If successful, the idea could be adapted for use elsewhere on urban rivers.
Come for drinks on the evening of 15 September, hear why the biodiversity of urban rivers is so important and walk through projections of those microorganisms that inhabit this stretch of the river. Watch out for Daphnia, Desmids, Diatoms, Euglena, Melosira, Pediastrum, Rotifers and colonies of Asterionella.
7:30pm, Tuesday 15 September 2015
Tamesis Dock barge, Albert Embankment, London, SE1 7TP
Map
Find out more at:
www.lambethfloatingmarsh.org.uk
The project has been funded by the Western Riverside Environmental Fund, which re-directs revenue from landfill tax for environmental purposes.
---
About the University of Westminster:
The University of Westminster boasts a vibrant learning environment attracting more than 20,000 students from over 150 nations and we continue to invest in our future with new developments, research projects and new ideas.
We offer highly attractive practice-based courses that are independently rated as excellent, many with international recognition. Our distinguished 180-year history has meant we lead the way in many areas of research, particularly politics, media, art and design, architecture and biomedical sciences, and our position in the city of London allows us to continue to build on our close connections with leading figures and organisations in these areas as well as in the worlds of business, information technology, politics and law.
Our commitment to educating graduates for the needs of professional life attracts high quality students from within the UK and around the globe.
Internationalisation, employability and sustainability are key elements in the University of Westminster's vision for the future and we strive to ensure the very highest standards are met and maintained.
Here we hope you find everything you will need to research, write and publish your story or blog post.