Dr Loraine Leeson donates work to support DACS
8 September 2015
The A2 poster Women Beware of Man Made Medicine, was created by Loraine with input from the Women's Health Information Collective through a project initiated by East London Trades Councils, health workers' unions and also involving fellow artist Peter Dunn. It was one of a series of posters produced by the artists to draw attention to the first wave of cuts to hit the National Health Service in the late 1970s.
The poster will be auctioned online by Paddle8.com from 10–24 September 2015. The proceeds will go towards funding a range of new initiatives supporting artists in legacy planning and archive management, education and a public programme supporting the continued appreciation of art and its value to society.
For more information, visit DACS Foundation's website.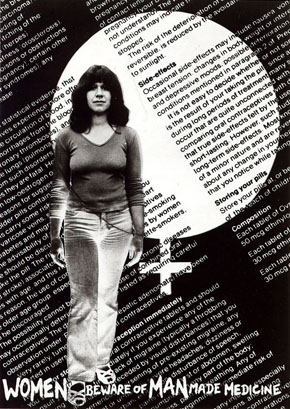 ---
About the University of Westminster:
The University of Westminster boasts a vibrant learning environment attracting more than 20,000 students from over 150 nations and we continue to invest in our future with new developments, research projects and new ideas.
We offer highly attractive practice-based courses that are independently rated as excellent, many with international recognition. Our distinguished 180-year history has meant we lead the way in many areas of research, particularly politics, media, art and design, architecture and biomedical sciences, and our position in the city of London allows us to continue to build on our close connections with leading figures and organisations in these areas as well as in the worlds of business, information technology, politics and law.
Our commitment to educating graduates for the needs of professional life attracts high quality students from within the UK and around the globe.
Internationalisation, employability and sustainability are key elements in the University of Westminster's vision for the future and we strive to ensure the very highest standards are met and maintained.
Here we hope you find everything you will need to research, write and publish your story or blog post.