Book award triumph for CREAM doctoral student
26 May 2015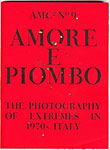 This leading UK prize supports excellence in publications in the field of photography and moving image. Winning books have been those which make original and lasting educational, professional, historical and cultural contributions to the field.
Amore and Piombo, co-edited by Federica with Roger Hargreaves from AMC, collates press photography from the archives of the Rome-based agency Team Editorial Services which reflect the so-called Years of Lead in 1970s Italy, as photographers oscillated between recording celebrities at play and the increasing street violence in this turbulent decade of political unrest and clandestine manoeuvres from agencies such as the Italian secret service and the CIA, against the backdrop of the rise of the Italian Communist party as an electoral force.
---
About the University of Westminster:
The University of Westminster boasts a vibrant learning environment attracting more than 20,000 students from over 150 nations and we continue to invest in our future with new developments, research projects and new ideas.
We offer highly attractive practice-based courses that are independently rated as excellent, many with international recognition. Our distinguished 180-year history has meant we lead the way in many areas of research, particularly politics, media, art and design, architecture and biomedical sciences, and our position in the city of London allows us to continue to build on our close connections with leading figures and organisations in these areas as well as in the worlds of business, information technology, politics and law.
Our commitment to educating graduates for the needs of professional life attracts high quality students from within the UK and around the globe.
Internationalisation, employability and sustainability are key elements in the University of Westminster's vision for the future and we strive to ensure the very highest standards are met and maintained.
Here we hope you find everything you will need to research, write and publish your story or blog post.